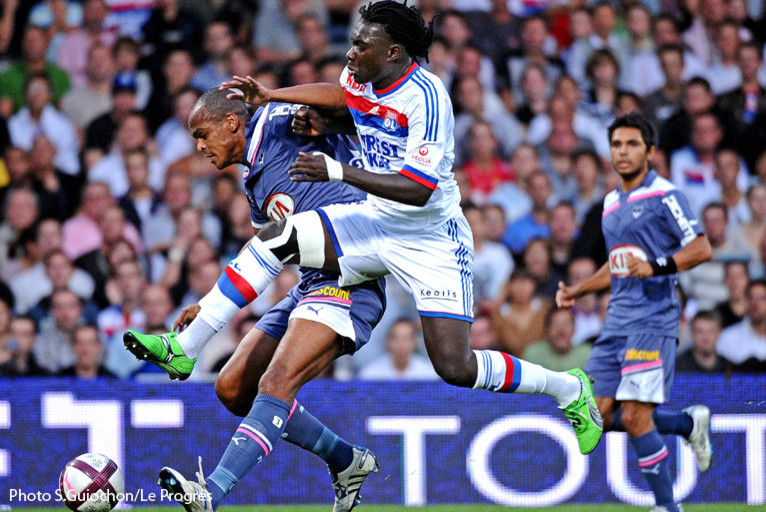 OL produced a really top drawer display against an out-of-sorts Bordeaux on Saturday - running out 3-1 winners. Analysis...
In just 7 minutes, OL dispelled any doubts that may have crept in after the 1-0 midweek loss to Caen. They were dictating the play, just as we love to see. The first half was excellent, perhaps the best half of football since the start of the campaign. The first 20 minutes of the second half weren't so strong and this needs rectifying.
OL returned to the preferred formation this season after straying from it against Caen, with Michel Bastos on the left, Kim Källström back alongside Maxime Gonalons in the mliddle and Clément Grenier sitting just behind 'Bafé' Gomis. It worked a treat, just as it had done against OM.
Solid as a team, Réveillère and Co. are riding on the success of the Bastos-Gomis duo involved in 55% of Lyon's goals this season (10 out of 18). The former crosses, the latter scores... The Brazilian has already delivered 6 assists (he hit the corner against Nice that Gomis put away at the second attempt) and scored 2 goals. Gomis already has 7  goals, including 6 in Ligue 1 and prompted an own goals against Rubin Kazan.
Neither can one can't overlook the influence of KK (Kim Källström). Missing against Caen, he was back in top form against Bordeaux. Toulalan used to say it was a pleasure to play alongside the intelligent Swede. Now Gonalons is saying the same thing. He is everywhere: advising his teammates, ball winning, clearing the danger, covering, attacking, taking the free-kicks and racking up four assists along the way (one from a free-kick and three from corners)...
After the game against Bordeaux, expert observers such as Pablo Corréa and Jacques Crevoisier spoke of the 'phenomenal Baki Koné', the improving Dejan Lovren, the rise of Maxime Gonalons - soon for the France team? Jacques Crevoisier, like Aimé Jacquet after the Ajax match, said he sees huge potential in Clément Grenier. All of these positives without the likes of Cris, Ederson, Gourcuff and Lisandro.