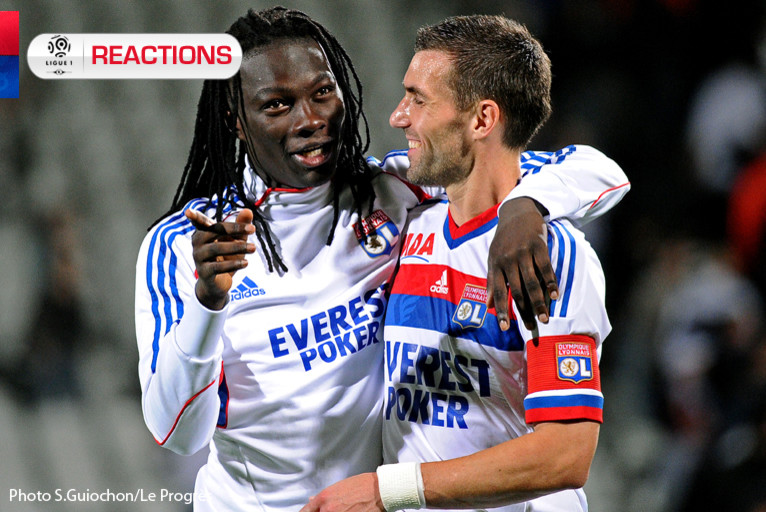 Check out all the reactions from the OL camp, speaking to the OLTV Bus after the 3-1 home win over Bordeaux...
Kim Källström
Does the penalty take the shine off the win? I don't know if it takes the shine off. We conceded a goal... but it's not that bad. We were up against a Bordeaux side with big strong attackers and they caused us some problems. It's a shame to concede the penalty, especially for 'keeper Rémi Vercoutre, but it doesn't really change anything. We were lucky enough to score early and we could even have had three before half-time. You can't play a full 90 minutes at that pace so you have to hold on to the ball and dictate the rhythm and it's easier to do that when you're leading 2-0.
Michel Bastos
I'm an attacking player so my role is to score goals and set them up.  Hadn't scored for a long time before the Marseille game so it's great to score again tonight. I hope it doesn't stop now. I tried to score with a little chip against Dijon that didn't come off. Tonight it did!
Maxime Gonalons
We told ourselves we'd made a real mess of the Caen match in midweek. We wanted to make up for that in front of our own fans. We did it in style and that's great. We scored early and that enabled us to control the play. Kim and I know each other really well, I know how he plays and together in the middle of the park, we try and do the best we can for the team.
Anthony Réveillère
We're very happy with an excellent win. We really wanted to make up for our display away to Caen. We did that, even if we conceded that late goal. We want to continue our run in Zagreb before ending this marathon of matches at the Parc des Princes next weekend. We're delighted to be earning the opposition respect at the Stade Gerland. We want to play well and please the fans with victories. It's a good thing to be playing every three or four days, because you get the chance to bounce back immediately.
Rémi Garde
Michel was decisive tonight. He has an excellent understanding with Bafé up front. It's the reward for our hard work and an excellent team spirit. Tonight we scored early and then controlled things which is very important, especially when you're playing every three or four days. It was good to score when we were sitting back even if we still have to work on allowing the opposition the initiative. Tonight we were also lucky enough to rest some important players with one eye on Wednesday's trip to Zagreb.