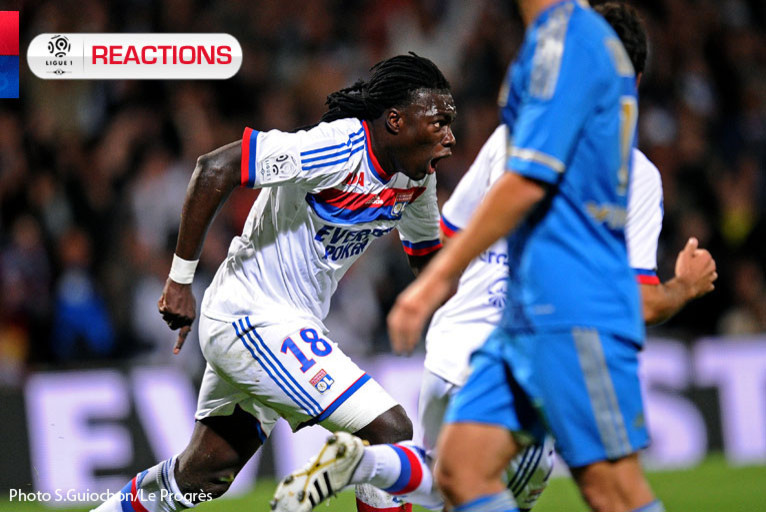 Check out who said what in the OLTV Bus after the fantastic 2-0 win over Marseille...
Hugo Lloris
This match is just another league match, like all the others. There are still a lot to go. It was very important to make our mark tonight, to move top of the table and put 11 points between OM and us. Our first half was excellent, our second half a little less so. We tried to play long a bit too much. It's a great boost for the morale and spirit of the troops with the guys coming off the bench having a big impact. Have we got a young team?
It's not a question of age, but of balance. The youngsters bring a lot of desire, but the experienced players are there to keep that under control. We have to keep our feet on the ground because that's our strength. We still have a lot of work to do and we need to keep a clear head, but it is good to be first. A cleansheet is always good, but the most important thing is that the team plays well and we win as many points as possible.
Rémi Garde
This win makes me particularly happy because of the manner in which we played. We were up against a Marseille side coming off an excellent win over Olympiacos. We were coming off a good game against Ajax. The players went out and won this as a team. That's very important.
We took our chances in the first half. We put plenty of aggression in the final action and that's great.
A negative?
We have to enjoy the victory, even if it wasn't perfect. We could have done better at certain moments of the match and there's also the injury to Kim which we hope isn't too bad because we're going to need him and everyone in the coming weeks.
Jean-Michel Aulas
There was plenty at stake this evening and when there's a lot at stake, it's not always easy to get the result you need. The players did what they had to do, just like the coaching staff. First place? We're turning heads because we haven't slipped up yet. We're getting better and stronger.
Michel Bastos
I'm really happy to supply a goal for Bafé [Gomis] and help the team get this result. I'm delighted to have scored because I hadn't scored for a long time. I didn't believe it when I scored - I've been waiting so long. I'm full of confidence now. We're top of the league, but there's still a long way to go. It's good to be in front, and now it's up to us to stay there as long as possible, perhaps right to the end. We can't look over our shoulder at the chasers. We have to look ahead.
Physically?
It's going okay for the moment. We worked very hard in preseason because we knew this run of matches would be coming. That's what preseason is for and for the moment, we feel good, but I still think there will be a bit of turnover too.
Bafé Gomis
The medical staff have done a good job because yesterday it didn't look like I'd be able to play. My teammates did a great job helping me with the defensive duties so that I could concentrate on attacking and I benefitted from a great cross from Michel to score this evening. We're starting to develop a good understanding between the passer and the goalscorer. I wanted to send a message to Lisandro when I scored. I wanted him, and all the injured players, to know that I'm thinking of them and that we need them back fit and ready to play. It's good to be first in the league, it's a great reward for all the hard work of the new coaching staff. We've gone back to the values we were lacking the last couple of seasons. This first place is the result of hard work since the start of the season, but it not over yet.