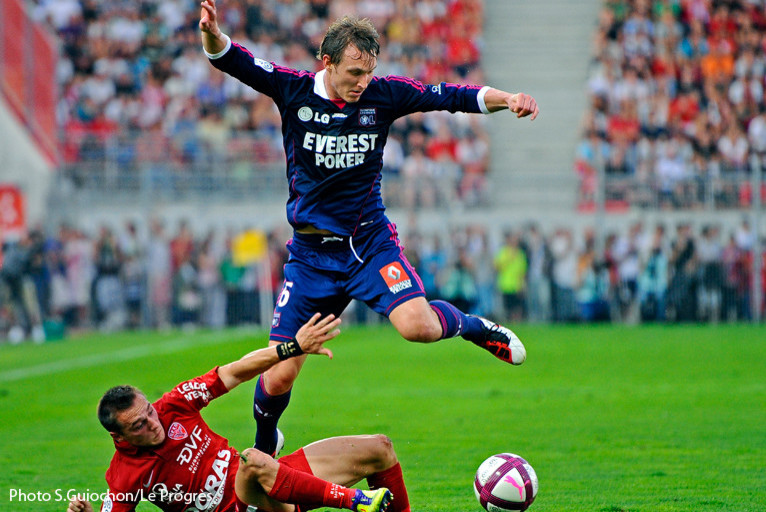 With the win over Dijon, Olympique Lyonnais continued their excellent start to the new campaign, even if Montpellier remain just atop the standings...
For a few hours at least, seven-time French champions Lyon were back top of the Ligue 1 standings, a position it hasn't officially held since 17 October 2009 at the end of Week 9. MHSC's win over Nice on Sunday, has since relegated OL to second. So it's still 72 weeks that OL has not been ranked No.1 on the league table. That's not the most important thing, however, after just five games of the 2011-12 campaign. When you take a look at how Marseille are fairing, we shouldn't feel too great a sense of frustration. OL remain undefeated in all competitions this season (seven matches in total). The win over Dijon also takes the undefeated run in Ligue 1 to eight matches; the last domestic defeat came against Auxerre in Week 35 of last season. Ironically, OM, OL's next opponents in Ligue 1, are now eight matches without a win!
But before this atypical Olympique clash, and ahead of Lyon's UCL match against Ajax Amsterdam, and OM's trip to Olympiakos, OL recorded a deserved, if not dominating 2-1 win over a promoted Dijon side lacking the experience and quality that coach Patrice Carteron has hoped for. This match, back from an international break and without the injured Lisandro, wasn't OL's best of the term, but there is a undeniable feeling that this Lyon side has real potential.
The main thing now is to keep winning points to build on the foundations of August. To do that, Rémi Garde can count on his leaders such as Gomis, Bastos, Lloris, Källström… they knew exactly what they had to do to get the result. Gomis also netted his fourth goal of the campaign while Bastos and Källström each registered a third assist…
While many observers accuse Réveillère and Co. of having a weakness at defending set pieces, two out of seven conceded (both from corners) this season, lets pay tribute to another goal scored from a corner which takes the tally of set-piece goals to five out of 12, including four scored from corners. The only real blemish on the card this term is that the side is yet to keep a cleansheet in its seven competitive outings so far this season.
It was a good start in the first of seven consecutive games in the next three weeks; a marathon of matches that may see the Lyon coach opt for a little turnover. He would certainly have appreciated the enterprising second-half appearance of Clément Grenier while well aware that Dabo, Fofana are ready for their chance and Gourcuff is not far from being fully fit, just like Mensah. Then there will be the returns of Cris, Ederson and... Lisandro, a little later.
So how will Rémi Garde decide to play in this first group game against Ajax d'Amsterdam? Was he adequately satisfied by the starting XI against Dijon, for example? The good run continues and we don't want it to end. The next game in the diary is on Wednesday, in Ajax's superb ArenA.