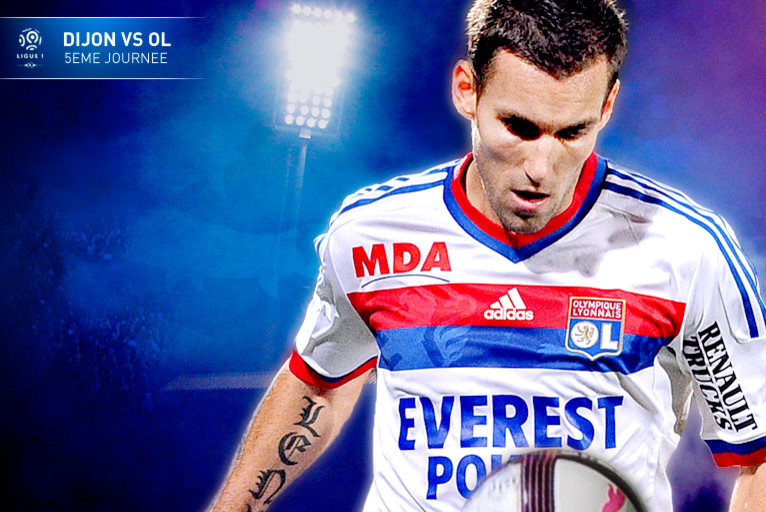 Back from the international break, OL begin the second marathon of their season this Saturday away to promoted Dijon... It's the chance to continue the great results of August, despite the absence of captain Lisandro...
It's never easy to get going again after an international break. Certain players were away representing their countries (Lloris, Réveillère, Källström, Lovren…), the others remained in Lyon and after a while, the time starts to drag. And of course, you can't jump into September, without finishing August and the summer mercato. Pjanic left to join AS Roma; Fofana and Dabo joined. During the break from domestic football, the injured made the most of the time off to recuperate. The likes of Grenier, Mensah and Gourcuff have all come on in leaps and bounds. Gourcuff still has a little way to go, but Grenier and Mensah are available. Cris, Ederson and Lisandro are obviously still sidelined. 
The Argentine goal machine will be missing for the first time this season and begs the question: How will Rémi Garde choose to replace him? That will also have a bearing on what formation is adopted, having started the season in a traditional 4-4-2. The new Lyon boss replied that he wasn't fixed on any one particular formation and that Lisandro's absence was the perhaps the chance for another shine. We'll see whether that chance comes in the form of 4-4-2 or 4-3-3... We'll see whether it's Briand, Pied, Lacazette or even Belfodil who fills Licha's boots if it stays a 4-4-2. 
Another question: will Rémi Garde be tempted to rest a few internationals ahead of the busy schedule for Lloris and Co.? Will that give new recruits Fofana and Dabo a first chance to wear the colours in competition? And finally, one last question: who will wear the captain's armband in the continued absence of Cris and Lisandro? In theory, Réveillère will get the honour, if August's matches are anything to go by.
But aside from the all these questions, OL will be in Burgundy looking to get a result against a promoted side coming off three consecutive wins; a promoted side that has clearly recovered from their opening day 5-1 loss to Rennes; a promoted side that, despite featuring 16 Ligue 1 debutants in its 22-man squad, has not conceded a goal since Week 2 and can count on the scoring form of Jovial, who already has three to his name; a promoted side without the services of the experienced Meïté and Varrault. One thing is for sure, recent results will see this side full of confidence for the visit of OL.
OL, undefeated in six competitive matches and playing some good football, have to build on an excellent start to the campaign, while accepting that it's only going to get harder and harder with a congested calendar. A good start would be to stop conceding this goal systematically in each game. As Bruno Génésio said, it's not easy to take the time and appreciate the good things we have. Perhaps the international break gave OL that chance more than usual, but it all starts again this Saturday with the first of seven matches in 23 days and OL's 8 points will be looking to grow and grow in this same period!