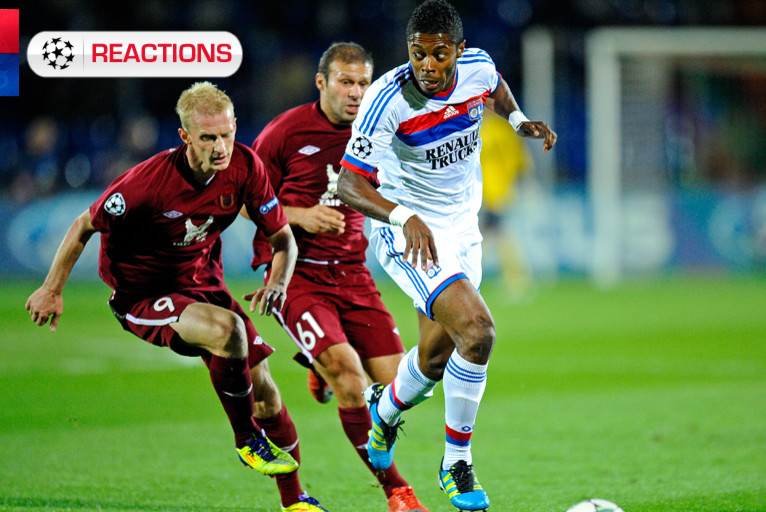 After OL's qualification, it is time for the post-match reactions...
Miralem Pjanic
We played pretty deep and suffered. In the end we really had to fight. There was a lot of solidarity, it was significant. This team is tough to manage, they are tough games. Tonight we are very proud to have qualified. I tried to bring what the coach asked me, more conservation of the ball. I am happy with my performance.
Bakary Koné
I went up to the penalty spot on the corner. I got my footing and beat the goalkeeper. Yes there are dreams and today I am seeing the reality, I'm getting down to work, I follow the advice of the coach. We had a scare but we were able to level the score.
Jean-Michel Aulas
It's going to be complicated, there is still the return journey. The players will arrive in the early morning in Lyon. There will be Saturday's game to prepare. We will do the best we can but the next match against Montpellier will be tough. We were up against the best team in the preliminary round. It was a first for Rémi Garde and I am very happy for him. This is a great victory because it was difficult and we put ourselves in danger. I am very satisfied. We have entered into a category of clubs that have qualified many times in a row, 12 in our case. This victory will give us confidence.
Rémi Garde
This qualification is very beautiful because it was acquired in adversity. I was very scared but the equalizer from Bako helped us a lot. I am very proud of the players. We all pulled together to achieve this. For now we are appreciating it. Tomorrow we will plunge straight into the draw. We stayed together well after the first goal. We must instill team spirit and keep it. Saturday will be complicated because we are up against the league leaders. In terms of preparation and recovery from the game it is not obvious. We will ask the players for one last effort before the international break.
Bruno Genesio
The fact that we qualified is very important. Tonight we are relieved. We got a little scared. We suffered at 1-0 but the entry of Miro and Hugo's decisive save did us the world of good. We can have regrets about how we played the ball out from the back, we must salute the courage of the players who have respected their positioning.
Hugo Lloris
The first half was pretty tight. We had chances in second half. We could have taken advantage and reached safety. There was very little time to negotiate, I tried to make the best of the situation. We have the feeling of having given everything. There was a good spirit, which is what we must remember. On the cross? I touched it, but this is not what prevented it from going in. Now? We'll have to respond present in the duels, there will be a lot of impact this weekend against Montpellier.
Lisandro
The game was difficult, Bako did what was necessary to get us back on track. On my one on one, my fatigue did not allow me to complete the action correctly, as I wished. I'm going to rest and I intend to score at least one goal against Montpellier this weekend. Hugo? He is an exceptional goalkeeper, he made the right decision at the right time.
Rémy Vercoutre
We poorly dealt with the danger and pressure with the opening goal. We knew how the game was going to pan out, we had to keep control of our nerves. We have the impression to have given people a lot of pleasure, everyone sees you put your heart into the encounter. The group is living together very well. Tonight Bakary Koné has removed a great thorn from our side. We have the impression that he has been here forever. He has a great ability to adapt.
Bernard Lacombe
We played a tough team. It is a problem for the attackers to hold onto the ball. They use up a lot of strength and do not always have all their lucidity in front of goal. The only thing that counts now is to be qualified. Bakary Koné is a future great defender, he is very attentive. It's good for him, he qualified the club for the Champions League. I thought we would score, I was confident. The team has a lot of resources, we once again came from behind. You can feel the touch of the coach and staff in this team.
Kim Källström
This victory will give us great confidence for the future. Compared to the first leg, we played too deep. We closed down the centre of the park and kept our attackers up front. We knew we would have opportunities. We had to wait to be 1-0 down to put away our opportunities but we deserved to qualify.