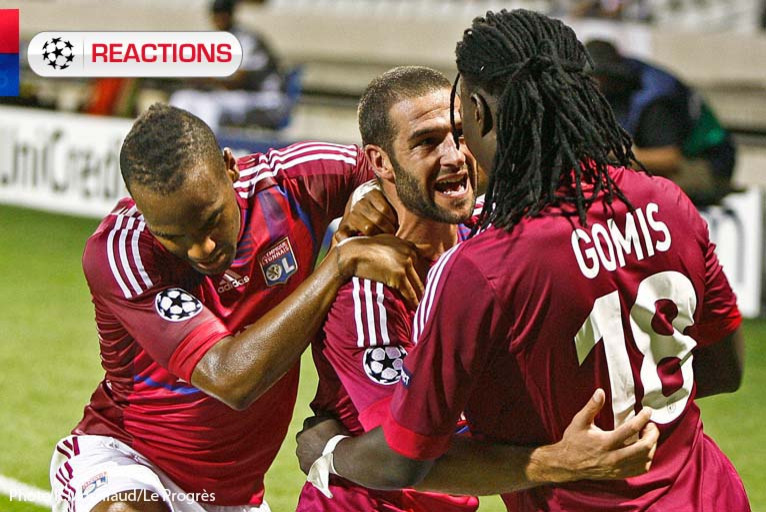 Read all the reactions from the OL TV bus after Lyon's great win over Rubin Kazan...
Bafé Gomis
Luck turned and I scored tonight. We have created some beautiful play. We have taken this two goal advantage, there is hope that we can continue. In the Champions League everything is possible, the Russians have great capacities. We have the confidence of talented players and a good preparation.
Rémi Garde
I am pleased to see a team capable of producing interesting play and scoring some good goals. We were expecting a difficult match, the players on the flanks pushed up and kept us pinned back. The team spirit was at the service of the collective, I am very proud of the players.
Jérémy Pied
We were able to seize our chance and put three goals past this team which is very good defensively. Bafé is in the continuation of last season, which is a good omen for the future. You must see the positives, we scored three goals and had opportunities to add more. In the Champions League, we proved that we could react. We will have to be careful and go into the second leg with great humility.
Jimmy Briand
This victory is a great pleasure. I'm glad we took a two-goal advantage. The support of fans is very important. I anticipated, I tried my luck and it worked.
Bakary Koné
We have a lead after the first leg. We must manage it for the return. We knew this team was going to defend a lot. We will keep that in consideration for the next game. It is a well-built side, it is up to us to find flaws. With OL I have found a new family. It was not easy for me to adapt but my teammates are nice and I'm trying to adapt as best as possible.
Maxime Gonalons
We knew they were a formidable team away from home. We knew they were going to defend well. We managed to create chances and defend well. There was plenty of space between the lines, we used up a great deal of energy. We put in a good pre-season preparation, we are able to play matches frequently. Now we must get ready for the match against Brest.