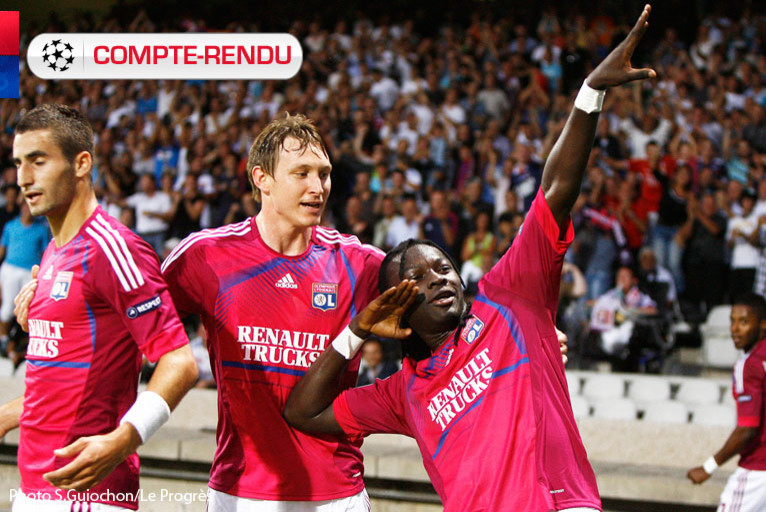 After quickly falling behind, Lyon turned the match by taking a two-goal lead into the return leg in Kazan.
The perfume of the European Cup was back at the Stade Gerland for the first leg of the preliminary round of the Champions League. Heat prevailed on the pitch and in the stands of the stadium.
The Russians quickly settled into the Olympian camp. On the second corner played in by Kazan, Dyadyun rose above everyone to put the ball out of the reach of Hugo Lloris (3'). Very enthusiastic, the supporters Gerland could have well done without this catastrophic start to the encounter. Nevertheless, they continued to get behind their team. On a free kick, Michel Bastos came close to leveling but his attempt flew a few millimeters wide of Ryzhikov's post. The Gones equalized a few minutes later through Bafé Gomis who volleyed home a perfect cross from Michel Bastos (10'). Lisandro and his teammates put their feet down on the accelerator. The Argentinean also created an opportunity following a cross from Bastos which was poorly cleared by the defence (14'). After a great start to the meeting, the Russians were more febrile. Kurban Berdyev's players showed themselves mainly from set pieces. The intensity lowered at the half-hour point of the game, the 22 players having put in a great deal of effort. Briand took advantage of a long ball to lob the Russian goalkeeper who still found a way to save on his goal line (34'). OL doubled their goal haul thanks once again to Bafé Gomis, who was played in by Lisandro, firing past the keeper with a cross cum shot which picked up a slight deflection (40'). After a spluttering start the Gones reponded perfectly by laying siege to the opposition defence and taking the advantage.
Just like the first period, it was the visitors who started the second half in better form. Lyon did react with Bastos forcing the Russian goalkeeper into a dive from a fleeting cross (50'). Picking up a knock, Aly Cissokho came off for Miralem Pjanic (51'). Michel Bastos moved back to full-back. Hugo Lloris was called into action on a long range effort from Karadeniz which looked to be heading into the top corner. OL came close to the break on two occasions but the Russian rearguard held firm. It was from a corner that the Gones hammered home their advantage, with Jimmy Briand knocking the ball home at the near post (71'). With a two-goal lead Lyon could relax and manage their efforts more. A few minutes later an incredible counter attack led by three OL players faced with just the goalkeeper attack unfortunately did not bring about another goal (81'). Hugo Lloris was obliged to really perform in the dying minutes in order to stop Kazan hauling a goal back. The score would not move. Lyon have taken a step toward qualifying for the Champions League.