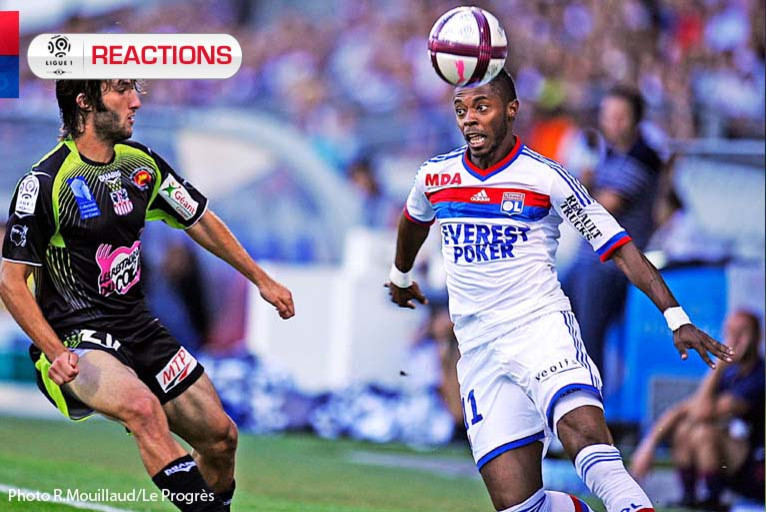 The post match reactions from the OL TV bus.
Harry Novillo
"I think there was a lot of frustration. We had many opportunities that we did not manage to put away. There was the equalizer late in the game. We were unlucky. This season we will try to lead and score first. We have a good team to move forward. We will now focus on next Tuesday's confrontation."
Bakary Koné
"In my case, it went well, I quickly understood how we were playing. We deserved better because we had many chances. We deserved the win. It was not easy for me to play with a new team. We played in front of a great public, now we will focus in order to be calm for next Tuesday."
Olivier Pantaloni, Ajaccio manager
"This was an excellent match for our club. We knew it was going to be complicated. I am satisfied. We defended with our weapons to win our first point of the season. Given the character of the meeting, it was logical that Lyon equalized. When leading 1-0 we think that success will be total, but given the number of occasions it was normal for OL to equalize."
Jean Michel Aulas
"I'm not alone in having seen so many shots hit the post in one encounter. There were many opportunities but with a quality team we were able to take the game and to level the score. The players are pretty disappointed because they put in a quality performance. We failed to take the three points. The supporters were fantastic, just like the performance put in by Bakary Koné. There are many positives from this game."
Michel Bastos
"It was harder than in Nice. We suffered a little from the heat. We must recuperate for Tuesday. We have to be at 100% to put in a very good match. We managed to quickly recover the ball. There were positive things, the opportunities, we did not let go even if we were losing the match in contrast to last year. I hope we will make a good performance on Tuesday. We may have wanted to do too much. We must remember the positive things and use them. I think the goalkeeper had a very good match. I remember from the game that we did not let go right to the end. I also retain the support of the fans who carried us. I did not know that Lisandro would be captain but he took his role well."
Rémi Garde
"Frustration dominates the evening especially for the players because they put in a lot of effort. We were not able to make the difference. We missed those opportunities early in the game. We could have made less effort and let the ball do the running. I liked the quality and the desire of my players to produce play. I think we had more room in Nice. We may have lacked a little patience. We know we have things to improve but the base is there. When we have a little more confidence in each other, we can hope for more. There are several captains in the group. Tonight Lisandro was captain because I consider that he is an example for 90 minutes on the pitch and off it. Regarding Bakary Koné, I think he showed a lot tonight, despite all the new things he is discovering. I hope the Ndinga dossier will progress, there are still two weeks of transfer window. I also hope to get Cris back for Tuesday and the qualifying match. Tuesday we will meet a team much like us in Rubin Kazan. We will adapt, making a good recovery to be ready for Tuesday."
See the programme from the bus every match night on OLTV.