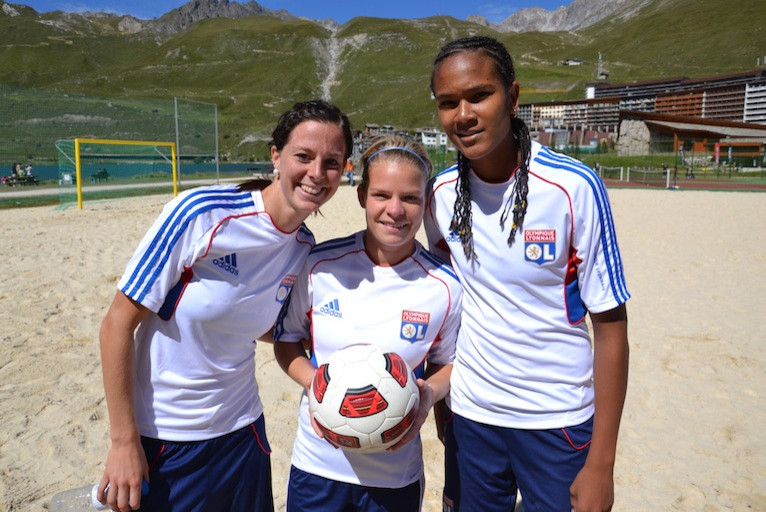 On their third day of training at Tignes, the Lyon women did a great deal of work with the ball.
For the last time of their stay, the OL players started the day with a physical wake-up, cycling at 7h30, all together this time. At 10h00, the group split in two with a jogging workshop and another in the gym. Then it was time for a beach soccer tournament, but in trainers as the staff feared injuries to the toes. "This allows us to put in work which is beneficial to the tendons. We undertook 4 minute sequences, so it was pretty tough," the assistant Antonin Da Fonsceca told us.

Work but also lots of fun, in the image of Sonia Bompastor, queen of the "joke" and self-mockery: "I'm from Portugal so I'm used to playing in the sand! No, it's hard. It is soft therefore difficult to show what you can do. I'm used to that technical moves, I am handicapped by the surface."
The sun and good humor are still in place, despite a difficult start to the training camp. But the program is now lighter. This afternoon, Patrice Lair's players only played, on the pitch of Val Claret. 3 sequences of 12 minutes with a lot of intensity in the oppositions. The injured Sandrine Dusang, Amandine Henry and Louisa Nécib continued their specific programmes, while Sandrine Brétigny had a finger trod upon.

Tomorrow afternoon, the Lyon women will be able to recover from the efforts they have put in since the beginning of the training camp, with a spa. A good preparation before Saturday's rafting...