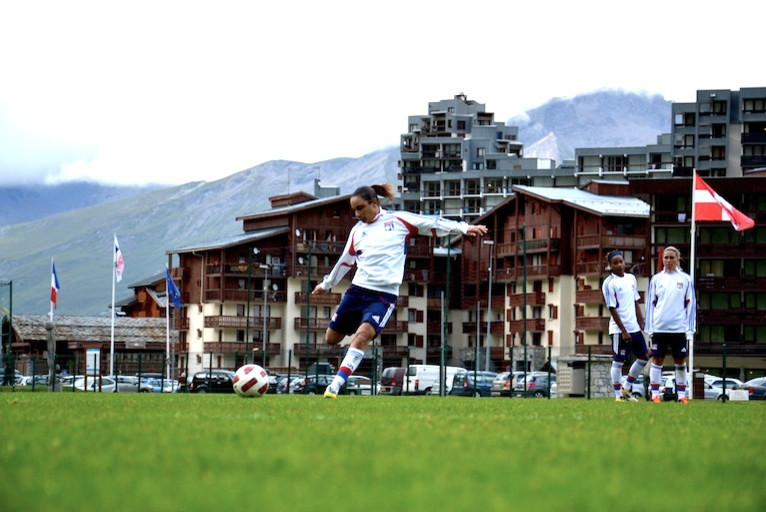 OL's women began their training camp in Tignes with two intense sessions on Tuesday.
The World Cup participants expected it, they have not made ​​the trip to Tignes for nothing. At 10 am this morning, the group of 11 internationals went jogging for 45 minutes following coach Patrice Lair. In other words, few of them were able to follow the furious pace of the OL coach, Sabrina Viguier, even losing her breakfast ... Elodie Thomis stuck to the lead man, with an ease that is as usual as it is disconcerting.

Meanwhile, the players who did not participate in the World Cup, and ho had resumed training two weeks ago, worked on their fitness and footing in the company of the assistant coach Antonin Da Fonsceca, while Daniel Jaccard took care of the goalkeepers Sarah Bouhaddi and Pauline Peyraud-Magnin. Then the whole group gathered together to work on passes, a classic at the start of the season.

Lara Dickenmann, voted player of the year in Switzerland last night, joined her teammates at noon. The last goal scorer of the Champions League final trained normally with the group this afternoon, as did Corine Franco who had suffered a little warning to the knee last week. The program included a session for an hour and a half on ball conservation and work in front of goal without the injured Amandine Henry, Louisa Nécib and Sandrine Dusang. The latter was able to capture with her camera, the suffering and pleasure of her partners, so happy to be reunited after three weeks of vacation.