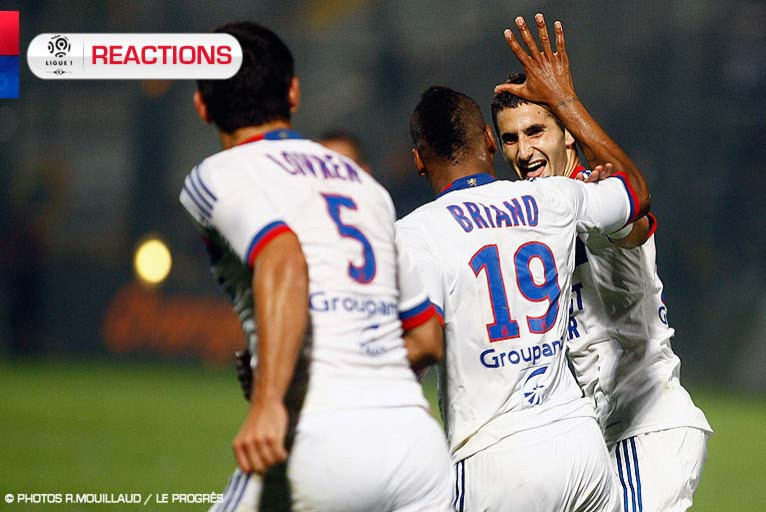 Reactions after the victory over Nice.
Rémi Garde
It's always interesting to start off the championship with a victory. It can sometimes be complicated in Nice. It was at the start of the match where we conceded a lot of free-kicks. We had to get back into the game and did so quite well. Everyone responded present and worked for the team. I think the players enjoyed themselves on the pitch and I think it showed.
Jean-Michel Aulas
I was anxious but tonight I enjoyed myself. We are always anxious during the first game. This first match was especially important. When you fall behind after five minutes, especially at Nice, were it is not easy. The players were able to apply what was demanded by Rémi. The team was persistent and remained well grouped. We seized the opportunities. There is satisfaction, but a lot of humility because we only won one game. This is important for the confidence of everyone. When a smile is present in all parts of a club there is always a lot more certainty.
Concerning the transfer of Delvin Ndinga: It's very complicated. The post of defensive midfielder is a priority for Remi. I had Gérard Bourgoin on the several times. We made a proposal that gives Auxerre the opportunity to increase its revenues if the results are good and if Ndinga plays a lot. There would also be a co-ownership on the rights of the player which is important. We must wait a little bit. Today Florian Maurice and his assistants went to supervise other players if a deal could not be done for Ndinga.
Jimmy Briand
Since the first days back in training the coach had said that the aim was to be ready for Nice. That is done. We are getting stronger. We applied the guidelines. We knew that Nice would start strong and then let up a little. We were able to take advantage of that and I think the victory is well deserved.
Kim Källström
It's all good. We put in a good pre-season preparation but we lacked the results in competition. We are aware that we have messed up the start of last season and then had to make a lot of effort to pull back. Here it is us who start off well and others less well. It's a beautiful evening for us.
Maxime Gonalons
We had a difficult start. We knew they were going to put a great amount of pressure at kick-off. We weathered the storm for a quarter of an hour, we remained focused. Then we managed to produce good play and got ourselves back into the match.
Bafétimbi Gomis
I'm glad I scored and especially to have won here. Since I've been at Lyon we had never won on the first day. It hurt me to not be effective during the friendly matches. I tried to stay focused and I was rewarded.