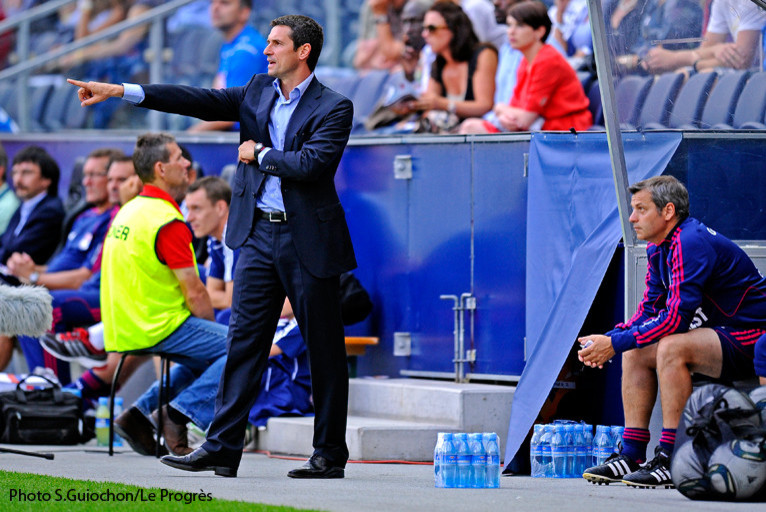 The focus of the session was in front of goal... Then the Lyon coach spoke to the press, just after Yoann Gourcuff...
A long session dedicated to working in front of goal individually and collectively with three goalkeepers taking turns (Lloris, Frick, Lopes). No time to feel the rain that accompanied most of the session this morning before the players signed autographs for interns of Hauteville present on Wednesday with their officals (Maillard, Puydebois ..;).
Just after Yoann Gourcuff, Rémi Garde spoke to the press. News and words already heard. Among the revelations, the injury situation concerning Yoann Gourcuff. The Olympian coach confirmed the statements of the player. "We are in a phase where we are attentive to the protocol in place since his return from Austria in the hope that it will work. If the calcification continues to interfere, we will see. It could actually be a question of operation. We will need to have a quick response. We'll know more in 48 hours. For now, Yoann is not technically at 100%...His absence in case of an operation? It could be limited to the preliminary round of the Champions League...." Yoann is handicapped for now, but there was also question of an in-formYoann and his role in the group. "I know the preferences of Yoann and I know the possibilities I have in the group. It's a shame he cannot play during this pre-season preparation..."
No other injuries on the horizon? "No, nothing to worry about. The players are in phase where they are doing a lot of physical work. Sometimes we adjust the work schedules of certain players." OL are preparing on a daily basis and play friendly games. "The purpose of these games is also to test different formulas. I have some thoughts on different formulas, but nothing is set in stone. Genk? They are a pretty good team who are champions of Belgium. They have already played three or four friendly matches. It will be interesting especially that during this match, it will be a party for the supporters. There will be a good atmosphere. Lloris and Gomis are ready for this match".
There was even question of possible departures. "Until August 31st, there may be movement. We'll see ... There are also areas of work for our recruitment. But until there are any departures, there will be no arrivals. And the players likely to leave are focused on their preparation and are in it. It's positive. So it does not bother me."
Finally the notion of pleasure was again discussed. On this subject, Rémi was, with humor, very lucid. "I have set a framework in which the players can have fun. I hope and I want it to be so... It depends on them ... But me, I am not an entertainer or clown (smiles)."
A second training session is planned this afternoon just before the semi-final of the French women's team. "What the girls are doing is great. It's very positive for the game...Us, we were already used to it with the results of OL..."