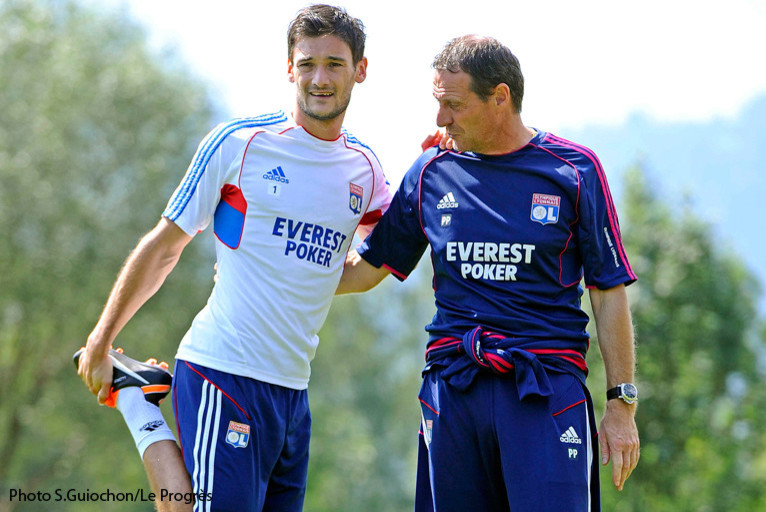 It was during the last hours of the stay in Austria on the morning after the friendly match against Red Bull Salzburg...
Almost all of the players of the professional group had played on Friday with the exception of Gomis and Cissokho. As for the goalkeepers, Rémy Vercoutre was on the pitch and Mathieu Gorgelin on the bench. As for Hugo Lloris and Anthony Lopes, they remained in the stands. So on this sunny Saturday morning, just hours before flying back to Lyon, the former underwent a very bucolic warming down session towards a postcard picture lake and the latter remained close to the hotel almost on the roadside, almost in the parking lot of the establishment.
No stadium, no goals, no public. Just four or five balls, a freshly mown field with cones for posts and a solid working session. The goalkeeper of the France team, along with his colleague of the Portuguese u21's, Mr "Jo" and "Pat Perret," one of the physios, hard at work with a huge smile even when the balls ended up in the surrounding hedges! "Chicken it is like when we were 10 years old... we had makeshift cages ...." "Jo" is in heaven and his band as well. He counsels, demands, encourages, corrects. The two goalkeepers follow each other with few words, just sweaty looks, a lack of breath... "Your hand is not a wall ... it must be a spring. It must go forward ... Let your nails grow to gain some centimetres." He says to Anthony Lopes who immediately moves his hands differently to keep the balls out of this "imaginary" goal.
For the final exercise, the two goalkeepers choose. "Anthony, bent double, seems to have some problems. With affection, the master's hand caressed the skull of the young goalkeeper and leaning towards him, he speaks softly.
45 minutes have flown by. The session ends with some stretching, Bats talking about this simple happiness lived away from the stars. The others agree. "Pat" Perret, without his Toulalan, pampers Hugo while "Jo" takes care "of Antho". Beautiful images of a slice of shared life.
And finally, they headed to the beautifully blue water of the lake for a swim. When they are reunited with the rest of the band, "Jo" told Rémy Vercoutre about this session who would have also taken great pleasure in being in these conditions that finished off beautifully the training camp in Austria.