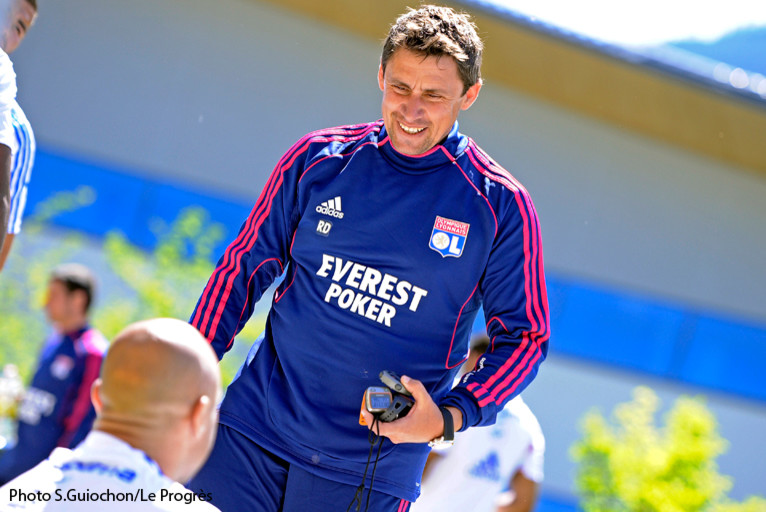 Robert Duverne had left Lyon to take full-time care of the physical preparation of the France team ... Two years later he is back with his famous stopwatch... Passion and emotion intact with Lyon engraved on his heart... An interview to see in the programme Estival...
In 12 months, he moved from the France team to Lyon having held positions at Arles-Avignon and Aston Villa. He will have experienced various adventures, always rewarding, with varying happiness. He recognizes it and does not deny anything. "With Arles-Avignon, I was surprised by the investment of the group ... In England, football is really something else ..." Passion transpires immediately in the words of Robert. Robert as passionate as he is curious. Was he afraid at one point of being forgotten? "No. I feared only that we remain stuck at certain images of me ... that did not necessarily resemble me...."
When asked what he thought about the last two seasons of OL, he lets himself be overwhelmed by the emotion evoking the semi-final of Champions League lost against Bayern. He cannot speak, has to wait long seconds before continuing: "I so wanted OL to win the Champions League. I was at the ground for the second leg...." But Robert, you were not at OL. "Yes I was in the stadium. In any case, even as a grandfather I would still be at OL. OL is my club and I really wanted them to win this competition...."
"Bob" made a long journey of two seasons before returning to his home port. "OL is my club. I knew one way or another that I would return one day. I already left once..." A return to be with Rémi, Bruno, Jo? "Rémi and Bruno, I had them as players. They accepted me ...So to be reunited with them and Jo, the medical staff ... it's special. There is obviously a great deal of happiness ... Like the happiness to be reunited with other employees of the club. "
.
Robert recognizes it, his work varies depending on the requirements of the coach. "Of course, demands are different from one coach to another. I strive to make available to Rémi all the players who can meet his their wishes for his style of play...." So, more ball and less physical work? "You have to beware of appearances. There are exercises with ball, which requires much more in terms of physical activity. We've been hearing that a lot since this return to training, there is this notion of pleasure to be taken... It's important".
Finally, looking at his stopwatch, you cannot help but ask him where the one he threw away during the last World Cup is. "But it is the one I have with me. My wife had offered it to me 15 years ago. He has seen it all, the titles, the final of the 2006 World Cup, the 2010 World Cup. Boghossian went and retrieved it for me... This stopwatch, Bergougnoux had painted for me after a title ... You see, this beautiful clock, it has withstood human stupidity. Luckily I had thought about removing it from around my neck before making this move ... otherwise it would have come back and hit me in the face...."
And just a few hours ahead, we left wishing him a happy birthday (44 years old on July 6th). "I do not know how old I am because I was never 42 years old..." Say Robert, you're not going to start referring to the derby!