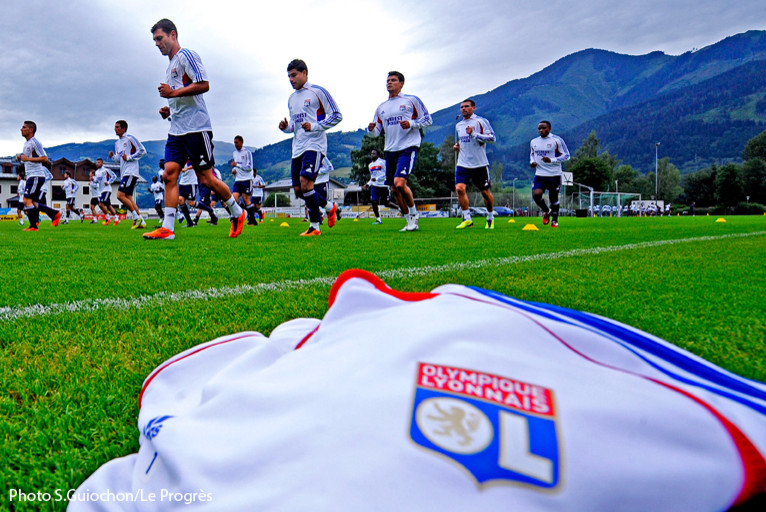 As of 17h00, the Olympians discovered the facilities at Zell am See for a first session marked by an increasingly cold weather...
A group of 63 people in total, pending the arrival of three or four youngsters held back by school exams, climbed onto the plane to Salzburg this Sunday morning. Familiar faces and others less so, like those of some young people. A flight of a little over one hour in a clear sky that allowed us to see the lakes of Aix-les-Bains, Geneva ... or sometimes the snow-capped Alps on its highest peaks. On leaving the plane, no doubt, the temperature was well below that of Lyon, 15 degrees and raindrops in the city of Mozart whose bust greets passengers entering the airport.
After the plane, the bus or rather two buses to get to the resort a little over 80 kilometres away. Along the way some names make us think of winter sports, such as the city of Bischofchofen, famous for its ski jump competition that we see posed majestically above the city. The greenery, mountains becoming closer and closer, higher and higher. Arrival in Zell am See at 12h00, 750m above sea level, temperature becoming cooler in the city that appears to be beautiful with the sun. For now, we see first the jackets on the backs of tourists!
Lunch, rest ... and at 17h00, the group is reunited on the pitch of the Alois Latini Stadium. The sky is really clogged, the raindrops are pouring down. The pros on the pitch, the youngsters supervised by Stéphane Roche and his staff at another part of the complex, 40 players in total. Bastos stayed at the hotel with one of the physiotherapists (Sylvain Rousseau) to work on his left knee. For a good hour, the Lyon players alternated work without the ball with Robert Duverne and with ball, following the orders of Bruno Génésio, Gérald Baticle or Joel Bats for the four keepers. Everything, evidently, under the watchful eye of Rémi Garde.
Rémi who made this statement after the session. "It's cool, but for our work this is better. We are working with care so as not to lose players to injury. We must be vigilant. What do I expect? Build a group; to get to know the players better individually and collectively, a physical and mental preparation. We will also strive during this week to get all the players on the same level. For now Cissokho and Gomis have been avoiding contacts...." As for Bruno Génésio, he confessed: "There was some good work in a lot of sequences during the game theme which concerned relations with 2 or 3 players, balance...."
After this session, which saw the return of the internationals Lloris, Källström, Pjanic, Lovren and Réveillère who did not participate in the game, the Lyon squad returned to their hotel? On Monday, the program will be more generous.