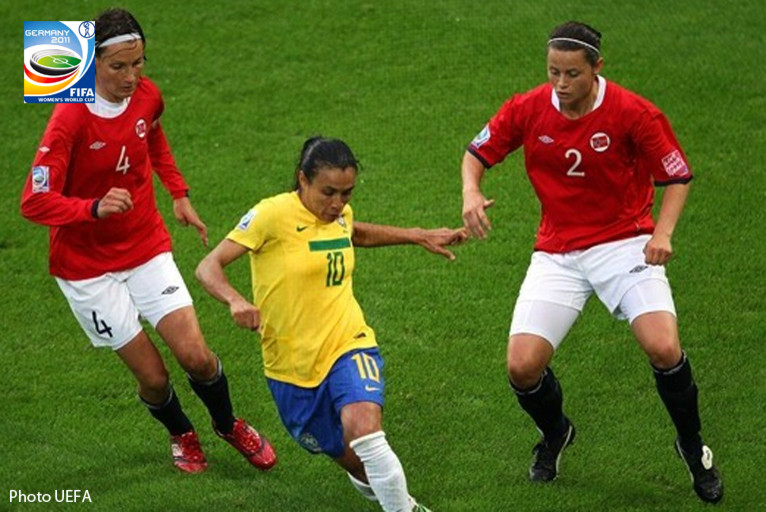 Sunday night, Ingvild Stensland and Norway had to bow against the irrepressible Marta, in a packed stadium...
A women's football match played in the rain with the temperatures approaching 10 ° C in early July: nothing attractive as presented. And yet, there is Germany, and its knowledge of organization, Germany and its passion for football. And of course there is Brazil, led by their extraterrestrial Marta, best player in the world for the last 5 years ... These few ingredients have been enough to fill the Volkswagen Arena in Wolfsburg. 26 067 spectators to be exact. Sold out, and great atmosphere at the time of the entry of players. Ingvild Stensland, captain of Norway in the front row.

In the first quarter of an hour, the teammates of the OL midfielder more than stood up to the Brazilians. But from a counter attack by the Seleçao, Marta broke away from the entire opposing defense, and concluded her frenzied rush with a few step over's and a left foot shot across goal: 1-0. The first classy move from the genius of women's football was accompanied by a great roar. The German public who seem to have a soft spot for their "cousins" from Norway blamed the referee to have forgotten a push from Marta at the start of the move. Severe ... Stensland and her teammates would never recover.

Just time to eat a "Bratwurst" sausage and Norway were down 3-0! After the break, Brazil finished off two new "rapid" attacks in 5 minutes. Marta offered the second goal to Rosana, before picking up her second goal of the encounter with a solo effort worthy of the king Pelé. Football runs through her blood as much as the beer in German veins. Great art, this time afforded a standing ovation as it should by the Volkswagen Arena which conducted "Mexican wave" after Mexican wave.

Voted player of the match, Marta has perfectly launched the World Cup campaign of her team after the unconvincing victory over Australia (1-0). As for Ingvild Stensland, who came off after an hour despite a good performance, she will have to lead Norway to victory against the Australians to reach the quarter-finals...