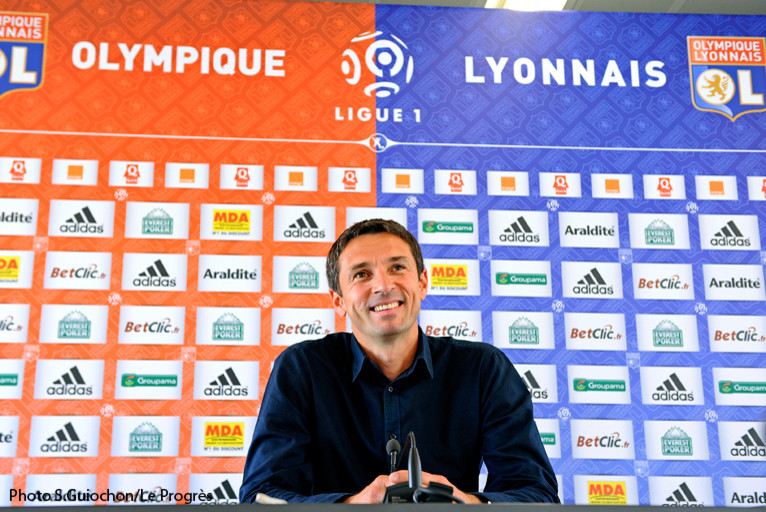 It was with a smile that Rémi Garde spoke to the Press for the first time, after the morning's training session.
How did training go?
It went well. I found the players well rested, ready to listen. I did not feel they were marked. They are well rested. I found them serene with great desire.
Did the month of June seem long to you?
Yes, yes (laughs). June was long, however, with 30 days, it is not one of the longest. I knew that the 30th would be somewhat special for me, it is. This is just the first workout but it was important to see the players and see things a little more clear ahead of me. Honestly, there was no stress, but as usual the concern to do things right. Of course I've started a job that I have never done before but I am not new to football or a novice here.
How do you see the summer ahead?
It will be interesting and sometimes complicated. Many parameters come into play with a preliminary round of the Champions League where it will be necessary to qualify. Amid all this, it should be noted that the transfer window will not be over. There are a number of players who could either leave or join us. We'll deal with it. I will try to get the players focused on the start of the championship against Nice and the preliminary round. We have a quality group, although the team failed to show enough last season. There is no player that bothers me in this group. Things have changed a bit at the club, I adhere to the project that I was offered. I know that we may have to sell before we can bring any players in. We can offset this with the youngsters at the club, although I regret that the internationals born in 1991 are absent due to the u20's World Cup. It is a heresy it is placed at that time. It is rewarding for the club but it penalizes us.
Where do you see the gaps in your squad?
There was the departure of Pape Diakhaté, John Mensah returned. We will make him undergo a lot of medical tests to take stock of his physical and psychological state. We will take it from there. If we need to take someone, I know we can do it. Cesar Delgado and Jérémy Toulalan have gone, the gaps would thus be in the position of defensive midfielder. We're working on it, knowing that Maxime Gonalons is there but for the sake of balance, I would like to strengthen that area. Young people can be reinforcements but not because there will be less seasoned professionals, they will have to raise their level of play they must show that they can be real recruits.
Does Delvin Ndinga interest you?
He is one of the players that have an interesting profile. He is part of a list of players who are of interest to me.
In previous seasons, coaches clearly made the title a priority. Is that your goal?
The club is very ambitious. There was a change in strategy, wanted or  perhaps a little economically-oriented, but the club retains the ambition to be European. I want to work around values ​​that are dear to me and which are important for the club, collective values, because without a collective commitment to the values ​​that I am advocating, it will be difficult for us to get there. We are a club that requires us to remain ambitious. I won't stop myself talking about the title, but a return to a certain humility is also part of the values ​​that I want to maintain. But beware: humility does not mean lack of ambition.
What is your philosophy of play?
It is based on the pleasure I want the players take out on the field. If players do not take pleasure on the field, I think it will be difficult for spectators to have any. But beware, this pleasure also comes from balance in the style of play. You should also take pleasure in a good defensive gesture. It also means being attentive to others, self-transcendence, through humility on the pitch.
How did you set up your staff?
Professional skills were a very important criterion, but I also wanted people I felt close to, on which I can rely.