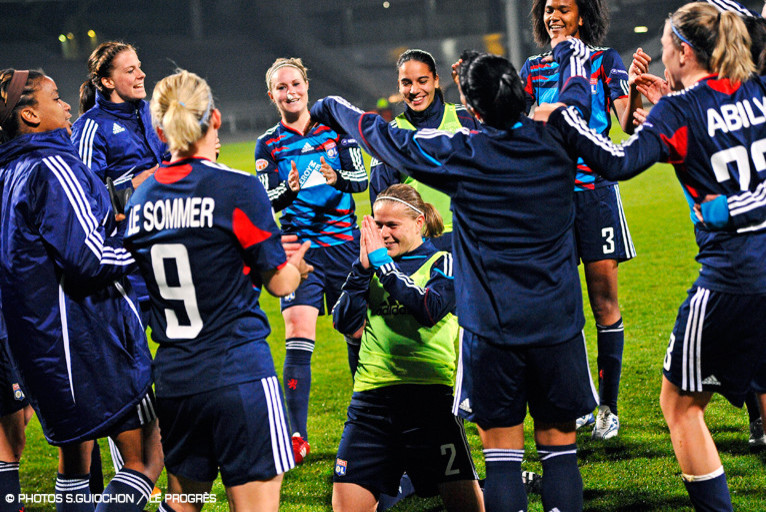 Deprived of the World Cup due to injury, the OL Women's defender will follow with interest the match Canada-France at 18h00.
Sandrine, how is your rehabilitation going after rupturing the anterior ligament of your right knee three months ago?
I entered the CERS at Cap Breton on Monday for a period of three weeks. I am followed by physiotherapists, I take spa's, work on strengthening my muscles and cardio in the bike room. I am a little ahead of schedule, they even expect me to start jogging in 10 days.
Did you follow France's first match against Nigeria?
Yes I was still at home in Lyon with my France jersey beside me. When I saw my teammates walk out onto the pitch and heard the Marseillaise, I wanted to cry. But once the game started, I became the first supporter of the team. And they ensured the essential with this 1-0 victory. The team has not been consistent but I saw some very interesting things. Since then I have had several players on the phone: Bret, Deville, Cocotte, Louisa and Sabrina (note: Sandrine Brétigny, Céline Deville, Corine Franco, Louisa Nécib, Sabrina Viguier).
How do you feel about the second match against Canada?
Canada, it will be tough. They have a striker, Christine Sinclair, who can score at any time. Both teams are as good as each other but I think that we have more advanced than them in recent years. And if successful, France would be qualified for the quarterfinals, while Canada lost their first game against Germany (2-1). I am confident.
What do you think about the first matches of this 2011 World Cup?
It is of the highest level. Despite the different styles of play, there is some consistency, the scores are tight. I was surprised by the game of Equatorial Guinea who lost only 1-0 against Norway. And then there is Germany who did not put in an outstanding game against Canada. But you feel they are capable of great things, the plays fluidly, and there is this quality in their attacking game.