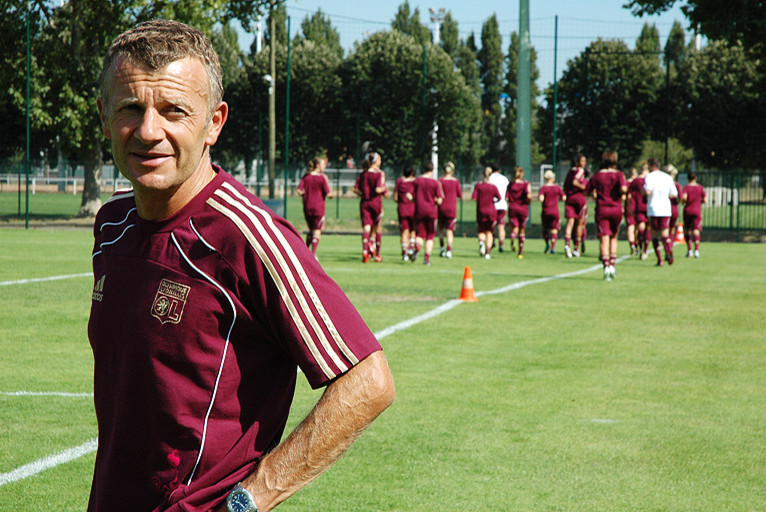 With 12 OL players competing in the World Cup, Patrice Lair is already working on next season.
Currently on holiday in Montpellier, the coach of OL Women Patrice Lair is gradually building his squad. The group of the European champions is not expected to undergo vast changes next season. Out of contract, Shirley Cruz, Lara Dickenmann, Aurélie Kaci and Sandrine Brétigny have all re-signed for one year. One year before the end of her contract, the Swedish striker Lotta Schelin should also extend her contract for another year. The uncertainty concerning the Norwegian Ingvild Stensland, out of contract, has a one-year extension proposition in her hands. We will certainly know more after the World Cup.
The only official departure is, at the moment, that of the goalkeeper Véronique Pons after four seasons at the club, 24 matches in the D1 and 10 in the Champions League. Out of contract, Pons should put an end to her career and reconvert to photography.
To succeed her, Patrice Lair has turned to the Montpellier keeper Céline Deville, who he had already coached before: "She is a player I know well, who has experience in the European Cup. She has signed a two year contract with Lyon as understudy to Sarah Bouhaddi, and will also deal with the training of young goalkeepers of the club." At 29 years of age Céline Deville has 42 selections and is currently in Germany to compete in the World Cup with France.
Another arrival is in view, that of the young defender from Le Mans Makan Traoré, aged 18, who should sign with OL for one season. Conversely, the young Lyon player Saïda Akherraze should be loaned out to another D1 club.
And if the left back of PSG and France Laure Boulleau preferred to stay in the club from the capital, Patrice Lair reserves the right to hire a great player after the World Cup. The OL coach will attend the semi-finals and final of the World Cup in Germany.

The return to training of the Lyon squad will take place on Monday, July 25, in Lyon. Then, the OL women should go on a training camp at the Alpe d'Huez from Monday 8th to Thursday 18th of August. Then they will play friendly matches on the 20th, 27th and 31st of August.