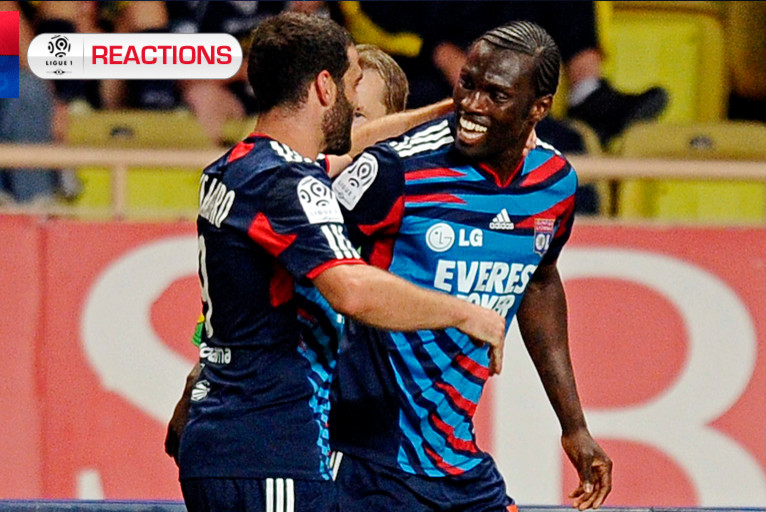 Post match reactions from the OLTV bus.
Pape Diakhaté
I'm happy for the team. It's a little revenge because at one point in the season I experienced some difficulties. Scoring is always good but it is especially so for the team. Every time I come onto the pitch it is to give my best. The important thing was that Lyon finished 3rd whether the club keep me or not. I put my feelings to one side.
Maxime Gonalons
It was not easy. Monaco were playing on the counter attack and with long balls. We did not put in a very good first half but we were vigilant and solid. We are relieved because we knew we had to come here to win. We are very happy to finish third and I hope we will qualify for the Champions League.
Bernard Lacombe
Tonight it was complicated again. It is exhausting. As soon as we make a couple bad passes we become more fragile. It was hard for the whole season. We are third with a quality of play that was mediocre at times and good sometimes. We wanted to win the championship but it was complicated. Lille deserve their title we must be lucid. There are so many things to improve. There is a big question of trust.
Jean-Michel Aulas
Tonight we are satisfied. The objective is achieved even if we had invested in being champions early in the season. The result is positive because everyone thought we would finish fourth this morning. We will take stock to see what went wrong. We were perhaps not quite able to rely on our training center. I'm sad for Monaco because it is a great team.
Ederson
There is a sense of accomplishment. It is not easy for me to come back after a long injury and play as much. Our journey has been difficult. With this group we could and we should have done better but we messed up our start to the championship. Now we'll go on vacation while thinking about next season and the preliminary round of the Champions League. It is unfortunate that Monaco are relegated. Sometimes in football you do not understand too much what happens but I hope they make a great season next year to come back up very quickly.
Claude Puel
I'm sad for Monaco but they needed a lot of circumstances to go their way in order to stay up. I hope they come back up very quickly. Everyone is happy that the season is over. We penalized ourselves by making a very bad start. This put a lot of tension and a lot of pressure on everybody. Under these conditions it is good to have achieved third place. We would prefer to play seasons with more fun and more positive things around you.