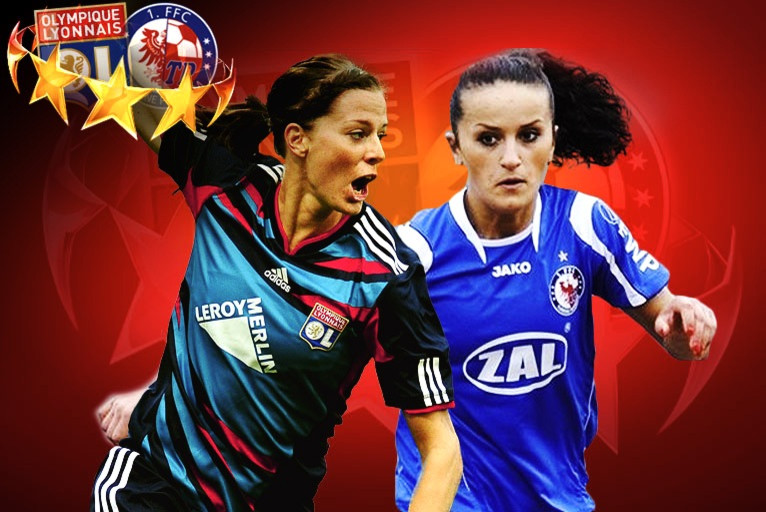 OL Women are once again up against Turbine Potsdam in the final of the Champions League, at 20h00 (21h00 French time), in Londres.
They could have done it last season. The Lyon players went close to winning the Champions League in 2010. At Getafe for the first participation of a French club in the final of a Women's European Cup, OL lost at the end of great suspense, during a dreadful penalty shoot-out. Two up in the shoot-out, Laura Georges and her teammates finally went down 7-6. A traumatism. "It's like that, states Lotta Schelin with philosophy. Sometimes things go wrong. It will be this year!".
LYON HAVE MATURED
The Swedish striker knows what she is talking about, doubly frustrated to have lost the final without being able to participate due to injury. With nine goals to her name this season, Schelin will be present this evening and this is one of the things that have changed. But not the only thing.

Patrice Lair has replaced Benstiti Farid, in charge of OL Women for nine seasons. Camille Abily and Sonia Bompastor have returned to the club after an exile in the United States of a year and a half. And if the Brazilians Katia and Simone, among others, had to leave the club, it was in order to rely on a core of French international arrivals with Sabrina Viguier and Eugenie Le Sommer. Some high-level foreign players are still there to supplement the workforce: Lotta Schelin for example, but also Shirley Cruz, Ingvild Stensland, and Lara Dickenmann.
The method has also evolved. Patrice Lair has relied on the work done for several seasons to bring in a definite plus, professionalism, constant demands, a psychological approach and quality tactics. "Coming to Lyon to win the European Cup", he's close to his goal. But the last step is often the hardest to overcome, especially when it is German.
A STRANGE POTSDAM

Strengthened by their triple Cup, Championship, Champions League in 2010, Turbine Potsdam has not changed their habits. The iconic Bernd Schröder is still in charge at the head of the team since its inception, and his original formation has not changed. A 3-4-3 which is rare in top-level football, but that is balanced and efficient. As often, it is all about animation. Potsdam have won the championship in Germany again this season. They are a reference.

The OL staff have dissected the characteristics of their opponents, although Schröder believes he knows more about OL than they know about Potsdam. Potsdam possess a frightening offensive trio, led by the German star Fatmire Bajramaj, voted player of the final last year. At her side, her compatriot Anja Mittag and the surprising Japanese national Yuki Nagasato who has exploded onto the scene this season with nine goals in the competition. Despite picking up an injury on international duty a few weeks ago, Nagasato should be in the starting line-up tonight in a solid team with great physical potential.

"We will have to respond present in our duels, says the OL captain Sonia Bompastor, before taking control thanks to our technical qualities." It will be at this point that the OL players will have to take advantage of the space left by the Potsdam rear guard. And go down in History...