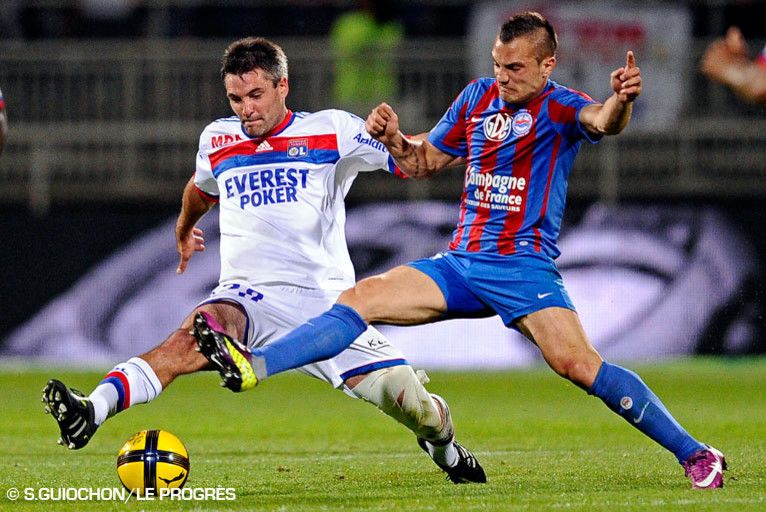 The last match of the season at Gerland did not leave anyone indifferent for more than one reason...But OL still have their destiny in their hands in view of remaining on the podium...Match retour...
Yes OL disappointed by not winning against Caen. He could have done with a minimum of realism while not especially being flamboyant, never having been able to find depth in their game for example. Yes OL disappointed by letting slip their qualification for the 3rd qualifying round of the Champions League. Yes, this disappointment against Caen follows on from the numerous others already experienced this season. Because of this, the seven-time champions of France have found themselves in both a strong position controlling their destiny for the famous third place, but also in an uncomfortable position by having to do so away to Monaco, who need 3 points to save themselves from relegation.
By knowing the latest results of OL away from home, 5 games in a row without success (2 draws and 3 defeats, 10 goals conceded and 3 scored, the last victory dating back to March 12 at Sochaux 2-0), does not invite optimism. There are recent developments at Lyon, there is the adversary Monaco... and there is PSG who will play in St Etienne. How will Saint-Etienne approach this game against the Parisians who absolutely must win to hope for the podium? Winning by a goal difference in case of a defeat for OL or having at least the same goal difference as Cris and his partners having scored more goals or as many goals. Get your calculators out during Week 38! Disappointments thus, logical concerns before those last 90 minutes. But we believe that OL can do what it takes.
As for what happened within the walls of Gerland, or outside as reported by the daily paper le Progrès, there is so much to say. Beyond inexcusably heard and stated, can you turn against your club when it needs a strong support? How can we let down the actors in action on the pitch? Yes, we have often been annoyed these days, we cursed, we asked ourselves a lot of questions... We watched with bitterness, again, the winners of various awards including those of the UNFP where OL had no individual winner for the first time since 2002. But on Saturday, there were positives to put weight on the present instead of the past, disappointment ... a suffocating weight!
What do we want? To play in the Europa League from the start, or try a new adventure in the Champions League? It is not worth it to behave this way, the message was already clear before the actions of the supporters on Saturday night ... These supporters, were they too afraid of the future decisions of President Jean-Michel Aulas they wanted to drive the nail to say next, eventually, they have "more and more power? And say: you saw ... The supposed love of your colours requires a modicum of respect even when you are disappointed. And if the disappointment is so strong that it becomes a divorce, you are not obliged to castigate the other side! The silence, the absence... are arguments that do not leave anyone indifferent, and can equally make a difference.
There is so much to reiterate that we want to move on and play this game at Monaco on Sunday evening. OL will play their season in the principality facing an opponent who will be playing for their future in the L1. This must first occupy everyone's minds.