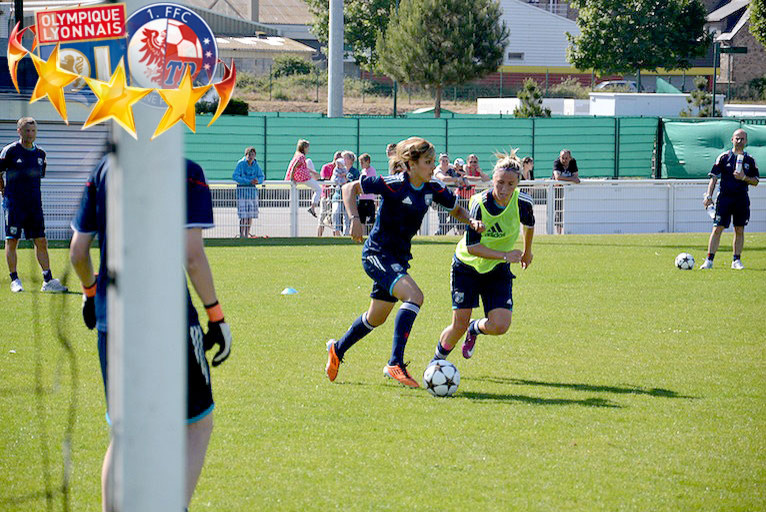 The OL women underwent their first training session in Saint-Malo, on Monday afternoon, following the video session in the morning.
Just 3 days before their Champions League final against the Germans of Potsdam, OL's players have returned to the heart of the matter. Monday started with a video session prepared by the assistant manager Frederick Strappazzon. The opportunity to analyze Potsdam's game, their defensive strengths and weaknesses...

In the afternoon, the coach Patrice Lair had organised a session based on game play at Saint-Malo. On the pitch at the Stade Marville, where they had come to prepare in December, the Lyon players began with a warm up in the company of the fitness coach Antonin Da Fonsceca. Lara Dickenmann suffered a little scare when accelerating: "I felt a little pain behind the thigh, I preferred to stop to avoid pulling a muscle. The medical staff looked and I could participate in the small games. I avoided shooting at the end of the training session, but it should not be a worry for Thursday." Like the Swiss international, the Norwegian Ingvild Stensland and Wendie Renard did not participate in all drills, as a precaution.

Under the Breton sun, the OL group underwent an intense session in the good humour: "We did a lot of game situations, we shot at goal and these are things that we are fond of, assured the captain Sonia Bompastor. We're not thinking too much about the final, it will come gradually with the departure to London tomorrow night." Until then, Patrice Lair's players will conduct a final session on Tuesday morning.