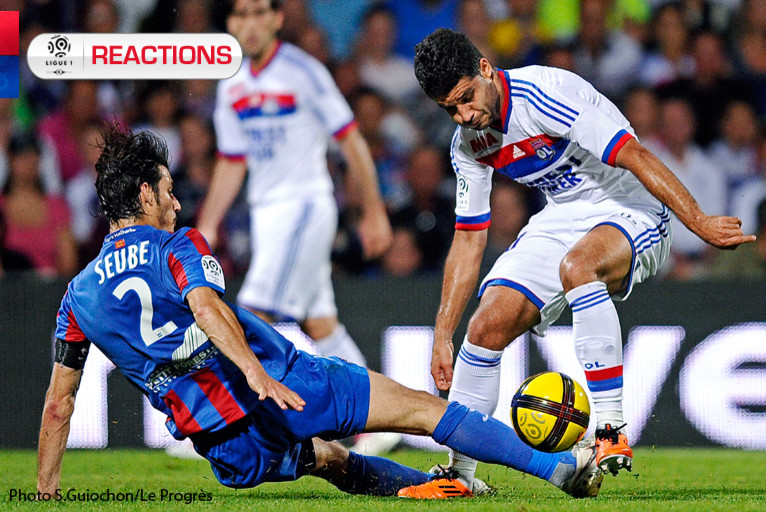 The post-match reactions from the OLTV bus.
Hugo Lloris (on the microphone of foot+)
"We must rely on ourselves and not on others. We were close to getting a good result tonight, and on the level of investment, we have nothing to reproach ourselves. Now we must concentrate on the match in Monaco, we need to rest well in order to be ready. We'll have to give everything we have and we will see what the final result is..."
Claude Puel
"We could have done without having to go play a decisive match in Monaco, we would have preferred to be safe as of tonight. Our performance was not too bad, with many opportunities. But we lacked efficiency, pace, we were tired and it's a shame not to have scored in the first half, which would have facilitated the match for us. Caen are a good team that knows how to manage counter attacks. They put in a strong performance. Now, we must be focused on the goal of the preliminary round of Champions League, and will have to pick it up in Monaco. It will be a tough game because they are playing for their L1 survival, but we must be ready and rest well this week. As for context, I regret that my players did not have the support needed to get this qualification, they would have deserved it."
Pape Diakhaté :
"We are very disappointed because if we won tonight, the third place was ours. We had to win today, but failed to put away our opportunities. Luck did not smile on us, there are days like this ... We have a second chance at Monaco we will try to take this time. We're thinking about the club, OL, the people who work in the club and the importance of a Champions League qualification. With the atmosphere things were difficult. We are in a democracy and everyone can express themselves. But when you support a team, you are with them through good times and bad. We must stand together."
Jean-Michel Aulas
"Disappointing is a word too small, superficial (as to the attitude of supporters). I'm not too disappointed with the quality of play of the team that could have won, but by what I saw tonight. We felt that there was a total misunderstanding, and that is severe since the team is third. And when you are right next to the finish line and close to a qualification in the European Cup, we need encouragement. So there's a big disappointment, with the result, but also by what happened in this stadium that saddens and worries me. It is a rather dramatic situation and unfortunate for all the people who work for the club.
We must now prepare the match against Monaco correctly, even if the environment will be complicated with the F1 Grand Prix. We must refocus on our values ​​..."
Franck Dumas (Caen manager):
"We managed to block deep, to move our lines well at the same time. We moved forward when we had to and fell back together as well when necessary. Lyon should not be ashamed of their performance: they weren't far away, they put in the necessary performance. Us as well, we could have hoped for, if El-Arabi had scored. But then football is special ... Moreover, the championship is exceptional this year, we have 45 points with one match to go and we're still not sure to be in the Ligue1 next year ... We'll spend a quiet week at work, we'll speak, and not to get to wound up so as to be in good condition for the match against Marseille."
Nicolas Seube (Caen midfielder):
"All of our direct competitors have won or drawn, so everything will be decided on the final day of the season. But, there was nothing for us to be ashamed about concerning our game, it's just a pity that the results are not favorable to us. Lyon had a few opportunities, it was hard physically, but we also had opportunities to win late in the game. Now we'll have to fight against Marseille, and get the same result as Monaco. We would be happy to see Lyon win, it would suit us well!"