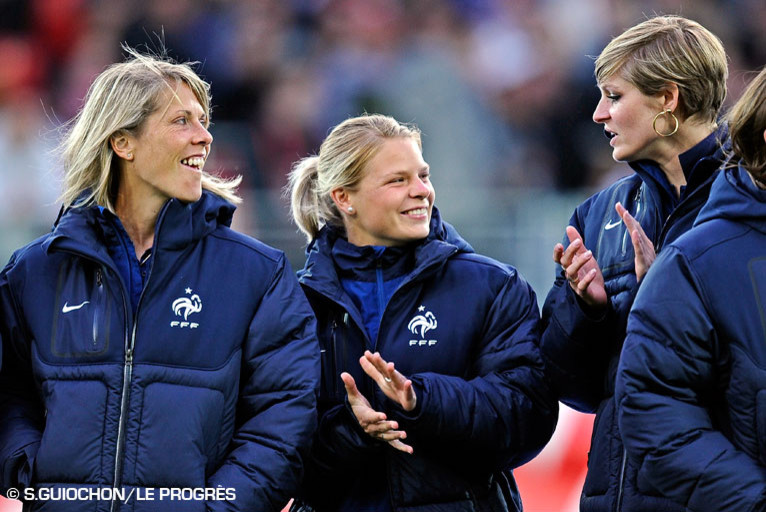 Bruno Bini unveiled the list of 30 players pre-selected for the World Cup in Germany.
Sarah Bouhaddi, Laura Georges, Wendie Renard, Sabrina Viguier, Sonia Bompastor, Corine Franco, Amanda Henry, Camille Abily, Louisa Nécib, Elodie Thomis, Eugénie Le Sommer, and Sandra Brétigny are part of the list of 30 unveiled on Thursday by the national coach.

This list comes a day after the 1-1 draw conceded by France against Scotland in Brest. Laura George, Wendie Renard, Sonia Bompastor, Corine Franco, Camille Abily, Louisa Nécib and Eugénie Le Sommer were all in the starting line-up. Sabrina Viguier and Sandrine Brétigny came during a game. The final list of 21 players will be announced on June 6.

The Swede Lotta Schelin and Switzerland's Lara Dickenmann also participated in friendly matches with their national sides. Sweden beat England 1-0 on Sunday, before losing 2-0 against the same team on Tuesday. Switzerland drew 1-1 with Canada on Monday before losing 2-1 on Wednesday to France's future opponents at the World Cup.

The Lyon coach Patrice Lair will recuperate his players this Thursday at 16h00. OL's women are entering the final stretch of their preparations for the final of the Champions League to be held on Thursday, May 26th in London, against the Germans of Potsdam.