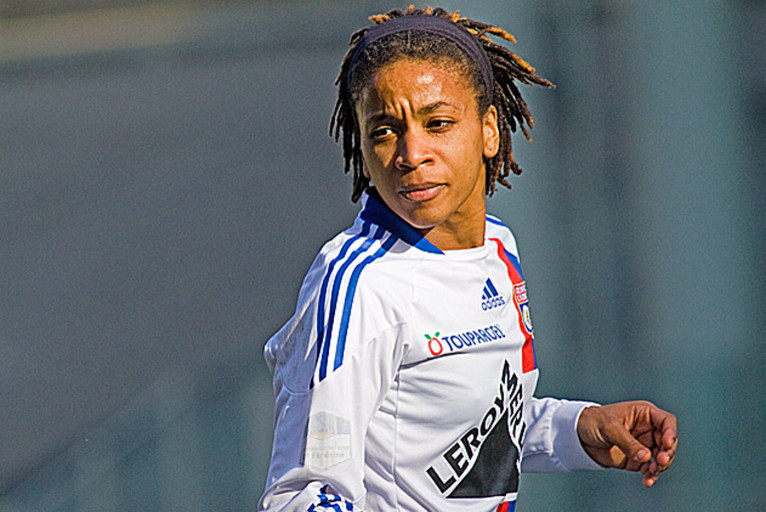 Lyon prepared in perfect manner for the final of the Champions League, by winning the derby this Sunday at the Stade de Gerland.
11 days before the final of the Champions League against the Germans of Potsdam, OL's women did not hold back. Against Saint-Etienne, Patrice Lair's players won their 21st success in as many games in the D1, leaving no chance to an opponent they had already beaten 6-0 last weekend.

For her big return to competition after a few weeks absence, Elodie Thomis destroyed the Saint Etienne defence in the first half, offering up four assists to her partners. As early as the seventh minute, the fastest player in the championship lifted the ball over the keeper. Le Sommer, in the starting line-up because of the absence of Lotta Schelin away on international duty, had only to push the ball into the net (1-0, 7'). Just afterwards, Thomis offered the second goal to Louisa Nécib following another break down the right flank (2-0, 8'). The Thomis show continued with some great play and a pass for Camille Abily, who scored with a nice left foot effort (3-0, 17'). Abily then took advantage of yet another pass from Elodie Thomis to head home (4-0, 37').

After the break, Patrice Lair decided to rest Thomis and Abily, bringing on Lara Dickenmann and Sandrine Brétigny. The latter turned one of her first balls into a goal (5-0, 46'), before Louisa Nécib took advantage of a superb one-two with the young and talented Amel Majri to make the score line heavier (6-0, 58'). Brétigny (7-0, 86') and Nécib (8-0, 90') picked up, respectively, a two goal haul and a hat-trick at the end of the encounter, concluding a great day of promotion for women's football in front of a captivated audience and a President Aulas all smiles.

OL Women line-up:
Bouhaddi - Renard, Georges, Viguier, Bompastor (cap.) - Henry, Abily (Dickenmann 46'), Cruz - Thomis (Brétigny 46'), Le Sommer (Majri 56'), Nécib.

Goals:
Le Sommer (7'), Nécib (8', 86', 90'), Abily (17', 37'), Brétigny (46', 86').