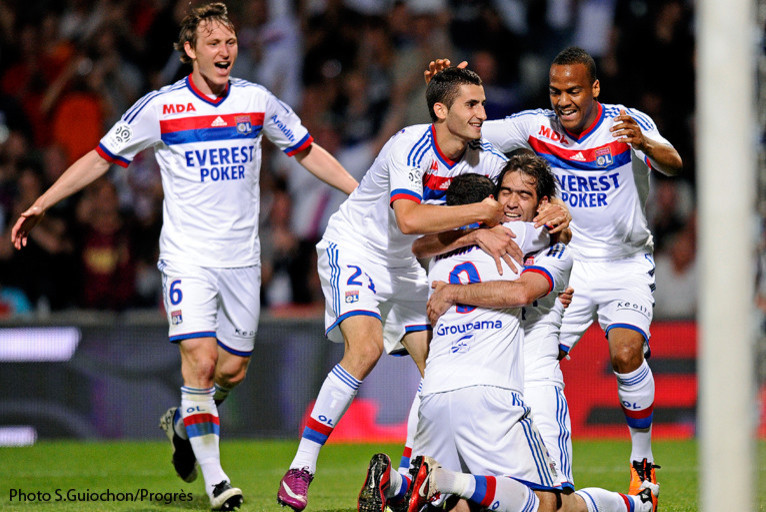 Lyon put in an attractive performance against Marseille all the while taking three precious points ... All they have to do now is to confirm... Match retour...
Let's admit it, we were not frankly reassured before this game against the Phoenicians. There was still the Toulouse disaster in mind. There were all the approximations of recent encounters. There were many absences (Bastos, Cissokho, Gourcuff, Ederson, Toulalan). There were also the qualities possessed by OM, boosted by the need to take all three points after the success of Lille in Nancy.
So what face would show Cris and his partners? One of a group refound in a convincing 4-3-3 formation which covered the field well and generated great game sequences; all individualities concerned, in the image of a pugnacious Lisandro ...a remarkable Delgado who made us regret his numerous injuries ... Not to mention the others such as Réveillère, Lloris... the youngster Kolo in the first half... or the "old timer" Cris, a determined goal scorer in memory of his best days. We love to hear Gerland thank his favorite Brazilian as he did in the 84th minute! But, we appreciate less that the banner demanding the resignation of Claude Puel is systematically brought out, especially when he does not deserve it...
The mentality showed allowed the team to fight during strong periods for OM and to make the difference after being caught up in the score line. A mentality permanently shown by the unsinkable Claude Puel, which should eventually rub off on his group. There are examples that we cannot ignore! This OL is capable of staying on the podium, or even bother OM for second place. Let's hope they eradicate their mistakes which cost them two goals from set pieces. We feared the worst with scenarios already seen ... Quite honestly, OL could have run after the score if Rémy's goal at the start of the encounter had been correctly validated by Mr. Lannoy.
Let's also hope that they eradicate this yoyo form which changes from one match to another. If OL has rebounded nicely after the non-match in Toulouse, they now have to confirm, something they have not done in several encounters. The seven-time champions of France have not won away from home since their trip to Sochaux (Week 27) immediately after defeating Arles-Avignon at Gerland. They will have to do so at Auxerre without the injured Lisandro or the suspended Källström and Diakhaté. Bastos, Cissokho, Toulalan, Ederson, Gourcuff may all return in the Yonne.
Auxerre, Brest, Caen and Monaco ... in other words 12 points to be taken. 12 plausible points. This OL that we appreciate can do it. And we would not understand, if they fall as low as they did against Toulouse.