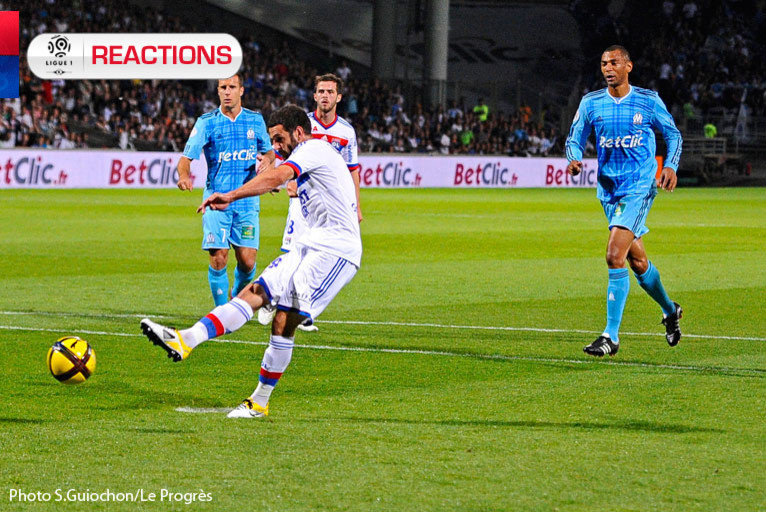 The reactions after the OL victory over OM, direct from the OLTV bus.
Anthony Réveillère
"We've stuck in right to the end. We really wanted to give everything we had. Even if we could have avoided these two goals, we can savor this victory. We pay for our errors directly, since the match against Rennes. We know we have some problems from set pieces. But we did not give up, especially after conceding the goals. We were solid to the end. Now, this victory can give us great confidence for the future. This is the result of what we produced this week. It was through work. We were not proud of ourselves after Toulouse..."
Miralem Pjanic
"We are very happy to win tonight. We got ourselves into trouble, we were weakened. We have no right to concede a goal one minute after scoring. But we showed our mentality, we did not give up. It was a real game, and it's nice for the fans, for everybody. We showed a good side of OL, with quality. We have closed in a little on Marseille and put a bit of distance between us and Paris: the win feels good. But let's not get carried away, there are still four matches to play, and if we win four, maybe we can aim higher. But we must pay attention to Paris, who are very solid. We must remain humble and work just like tonight, with the same desire, the same determination. "
Jérémy Pied
"We were at a disadvantage since they had gotten back to 2-2, but felt there would be a goal for one side or the other, we were able to force the destiny so that it was us who scored. Football is sometimes very strange: the start to the second half was complicated for us, but we managed to score, then Marseille equalized immediately after. But we clung on to add this third goal. Last week we were "useless", there we changed everything, everyone fought and that is what has allowed us to grapple this victory. Now, why not go for second place..."
Didier Deschamps (OM manager)
"It's infuriating, because we got back into the game after being 2-0 down. But it is also frustrating to be denied a valid goal, because it could have changed the game after ten minutes. But that takes nothing away from the fact that we have conceded three goals tonight. Lyon took advantage of our mistakes. It's hard to go in at half-time behind, having shown a lot of control. Then we made a good start second half, and conceded this second goal. It's a shame. Now we must think of recovering well and focus on the next game at home against Brest. Everything is still possible. Lyon have closed in but there are still twelve points to take: a lot can happen."
Maxime Gonalons
"It was a match with great intensity, a physical battle. But the main thing was the win and we did. We started the match well, with thirty good minutes in the first half. After our goal, it was sure Marseille were going to try to push, although I think we dropped back a little too much. We managed to get a 2-0 lead, but unfortunately we conceded this goal from a mistake ... But we were able to win and that is the main thing. The priority is to take third place. There are four games to go, it is up to us to win them. This victory can do us a lot of good because we achieved great things in this game. We found our values, our quality of play, and that is good for the future."
Jean-Michel Aulas
"The whole group showed solidarity. Congratulations also to the supporters who supported the team despite the match in Toulouse where we were all disappointed. Although Marseille were very strong, we have managed to win the game. The OM comeback, given the matches against Rennes and Nice, did not look good for us. I was very scared. But it is wonderful to be able to win like this. I told them before the game to believe in themselves. This evening, everything finished well, with an extraordinary end to the game as we had to withstand Marseille, who are the most balanced team in our league. The bad news is the injury to Lisandro. We'll see how things evolve, even if it is feared that his season is over."