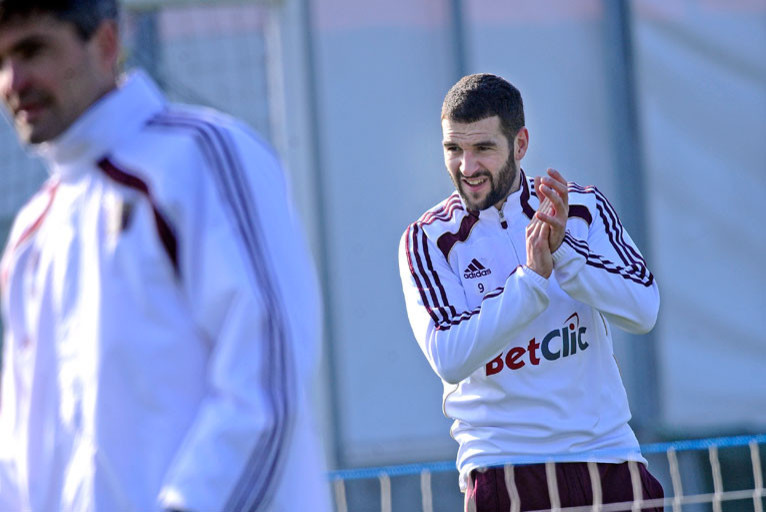 After having "spoken of Toulouse" on Monday, and the rest day of yesterday, it was time to return to work for Lisandro and his teammates. The Argentinean striker has turned the page on Toulouse, and is now looking toward the big match against Marseille...
"A disastrous game at all levels. I cannot explain it." This is how Licha defines the match against Toulouse last Sunday, lost 2-0 by Lyon. But it would an error to believe that the Argentinean would leave it at that: "Now we must analyze the errors in order to not commit them again. We are all responsible, from the first to the last player. We must be aware of these difficulties to better manage the rest of the championship. And most importantly, we must have the desire."
And, as far as Lisandro is concerned, that desire is not lacking, nor the motivation to succeed in this final sprint: "There are five games to go, and we must win them all. It does not interest me to play well, what I want is to win, whatever the decisions, and regardless of the playing system."
A sprint which continues on Sunday with the clash against a direct competitor, Olympique de Marseille. A decisive encounter: "If we lose against OM, we can definitely forget the title. In addition, we would complicate our life for the qualification in the Champions League. But I do not want to think about it. We must be positive and think only of the victory. There is no question of thinking about defeat. On Sunday, we want to show we're here and we will be until the end. We will do everything to win the final sprint."
The former Porto player - the Portuguese team he sees as favorites to win the Europa League this year - is however aware that the task will be difficult against Marseille, even if Didier Deschamps' players are not necessarily in brilliant form: "They, whether they play well or badly, win. They are a great team with great experience and who manage to get out of difficult situations."
So, are OM the team that OL will fight for this championship, or is it PSG for third place? For Licha, neither one nor the other: "Our biggest rivals are ourselves. If we play to our true level in the last five games, we can win them. But certainly if we play like in the last two encounters, we will not manage anything..."
And on a personal level, what level is he at? "I'm having a difficult time. I have not won anything since I've been here. Last year, I experienced an historical moment with my first semi-final of the Champions League. Today, there are five games remaining to get a title this season..."
Can the failure to win anything in Lyon push him towards the exit, he who said he does not want to leave Lyon until he has won something here? When a journalist asked, the answer was clear: "I already answered this question. You want me to repeat it? ... If I am not asked to leave, I'll stay."
The Lyon fans can be reassured, supporters who had been fascinated by the last OL-OM with, ultimately, a memorable 5-5 final score-line. Would Licha sign for such a score on Sunday? "It was a good score and good game for the public. But for me it's mostly a game riddled with errors! Especially when they equalized in the 95th minute. On Sunday, a 1-0 would be enough for me." And certainly the fans...