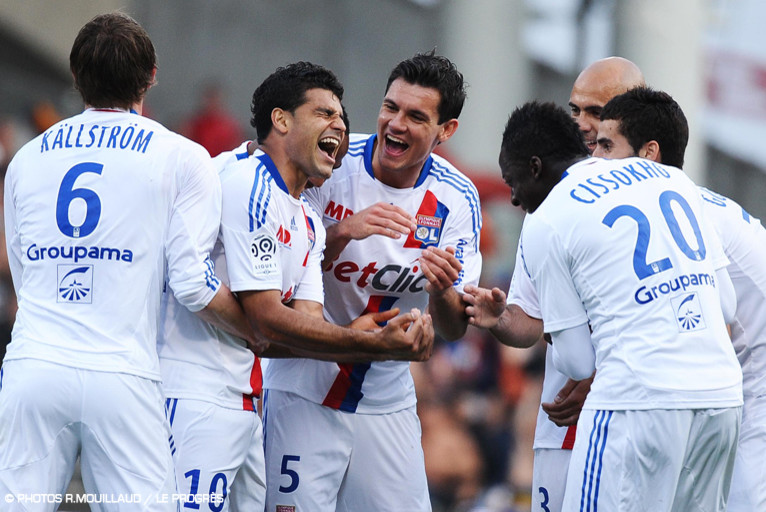 All the post-match reactions from the OLTV bus.
Yoann Gourcuff
"It's nice to score, for sure, especially since it is a very important goal. It is also heartening to see the joy of my teammates, because they must feel that this is not necessarily easy for me right now. These things are revealing, and I'm glad everybody came to congratulate me ... This victory makes us feel good. Against Nice and Rennes, we conceded goals at the end of matches which had prevented us from taking all three points, this time it allows us to take two more points, and that's fine. We must build on this momentum. There are six games to go and we cannot let anything go. All the matches will be important, starting with Toulouse."
Claude Puel
"It was a very complicated game with lots of things inside. From the first minute with the injury to Toulalan (who has picked up a knock to his internal ligaments, we'll know more tomorrow). Then we scored the first goal, but we did not have the lucidity to manage well this advantage. We put ourselves in trouble against a team that plays well, especially with long balls. We did not have the proper tactical response. We suffered a lot, even at the very end with this opportunity that we conceded in stoppage time, but despite these problems, the players have compensated by a lot of desire, character, and it is very encouraging for the rest of the season. We reversed the trend, and it is very important.
It is also important for Yoann Gourcuff that he scored. I am aware that it is no fun to be replaced, but he took it positively. Everyone wants to see him succeed, and pull in the same direction. Seeing him come on and score the winning goal, it shows the mindset of the group."
Kim Källstrom
"We went through all the emotions. We did not put in a very good performance. There are games where we played much better but only took a point ... We must not let go for the rest of the season, a good state of mind. We struggled offensively and defensively today, but nobody gave up. We are in a very good frame of mind at the moment. This victory can serve us for the future, even if we're all a little disappointed with how we played today because we are aware that we can do much better..."
Ederson
"It was a special match, fairly open, with chances for both teams. But this victory makes us happy and gives us hope for the future. But we know we must still work to correct our errors. This victory is important, but we must already start thinking about the next game. We must have the same mindset for the future. We have six finals to play..."
Maxime Gonalons
"We were warned of the battle that Montpellier were going to offer us. We also knew they would not let go, as demonstrated by their two equalizers. And if they got another one at the end, everything would have fallen apart ... but we must correct these errors for the final sprint. We thought that victory would be able to help us for the rest of the campaign, to not to let anything go. I am very happy for Yoann (Gourcuff) and Ederson because they deserved to score. We must concentrate now on Sunday in Toulouse. Even if they are not very good right now, we know that they always give their all against us, and we will have to go there in a conquering frame of mind."
Geoffrey Dernis (Montpellier)
"We can only blame ourselves: when we equalized, we should have shut up shop. It has been like this for a number of matches like that, we have not retained the lessons, and we were punished ... We had a lot of situations in the first half, we hit the crossbar twice... we did not put in a bad game, but the problem is that we do not always take points. With this performance, we have a little hope because we know what we are capable of, but we are especially disappointed with the result."