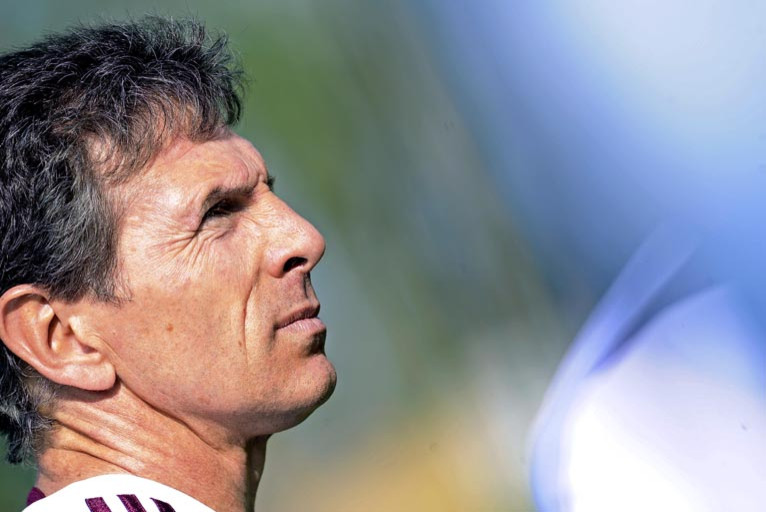 The OL coach arrived in front of the journalists at 14h00 to speak about the start of the week spent away from Tola Vologe, as well as subjects as varied as Michel Bastos, Yoann Gourcuff, Chelito Delgado or the 4-4-2 formation used in the second half against Paris...
The days at the golf course and Soccer 5
"It was a way of approaching the week gently. The first day, the players were able to do many activities, it was interesting. Today, the indoor football was more rhythmic, and it was interesting in view of the cardio work."
The final sprint in the championship
"We have seen that, as in the past two matches, things can change quickly one way or the other. It is clear that the championship is far from over. In recent matches, we have not been lucky. There have been situations, including from referees, which prevented us from having more points. Even if we say that it is balanced at the end, right now, it's pretty heavy for us. But we do not count on anyone, just ourselves. We must be more regular during a game. We saw it in Paris, we didn't play during the first half, but then put in a quality performance in the second. We will also have to improve our management of matches, especially at the end of games. This is, at this time, what has made the difference with other teams. Some teams may have some difficulties in the game, but this little trick that allows them to keep the results until the end..."
The 4-4-2 formation for the end of the season?
"There is nothing set in stone, but it is a possibility. This system requires a lot of balance, especially when you lose the ball. And in Paris, I do not think it is just the 4-4-2 that meant we put in a better second period: we also came back out with better intentions."
Yoann Gourcuff
"He has participated over the two days. I feel that he is well, especially with his teammates. It was not always the case because he is a very reserved boy. Now, in recent weeks, I find him much better, and that has to be translated onto the pitch."
Delgado, a contract extension?
"We made a contract proposal, a very good contract, and now we are awaiting his response. But, later, if he has other opportunities that allow him to get a better deal and, sportingly, to play more, then it is up to him."
Interest from Sevilla in Claude Puel?
"I will not comment on such things, I do not pay attention. Right now, it's not really what is important. My present is in Lyon, and my future is in Lyon."