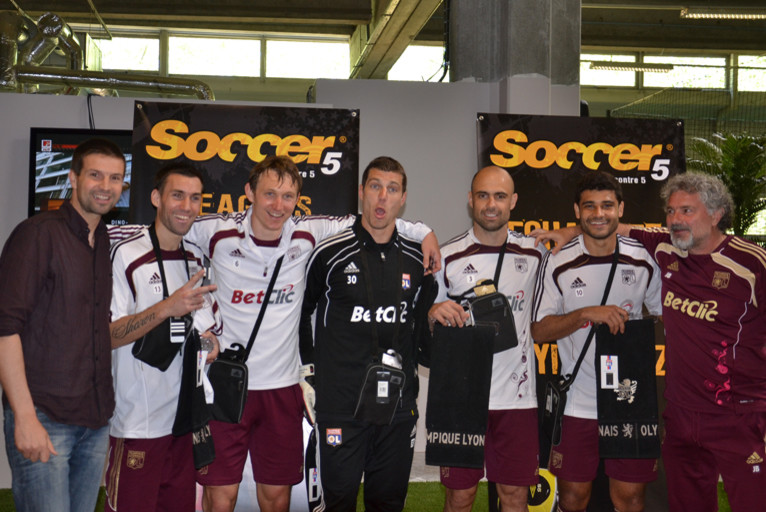 After being outdoors yesterday at the Gouverneur golf course, the OL squad were at Dominique Casagrabde's Soccer 5 this morning for an indoor football tournament...
A mini-tournament with two-legged matches was on the agenda this morning for the Lyon squad. Five teams of five players:
Pink Team: Hartock, Briand, Grenier, Gonalons, Gassama.
Blue Team: Lloris, Lisandro, Pjanic, Delgado, Lovren.
Purple Team: Frick, Gomis, Cissokho, Pied, Diakhaté.
Orange Team: Frick, Toulalan, Gourcuff, Kolodziejczak, Coach Puel.
Yellow Team: Vercoutre, Källstrom, Réveillère, Cris, Ederson.
A championship that took place with good technical and physical intensity, and especially with two players particularly in form this morning: Ederson and Yoann Gourcuff. Cries of "get in tight!" and "Do not give up!" rhythmed the confrontations.
After a good start, Claude Puel's team subsequently collapsed, suffering four consecutive defeats. However, constant from beginning to end, the yellow team, led by a very good Ederson who scored a hat-trick in the first game, was in the lead after the first round of matches.
The team of "youngsters" led by Max Gonalons also did well. But it is indeed experience that paid off, according to Rémy Vercoutre, since the yellow team's of the OL sub goalkeeper did not give up and finished first in this mini-tournament after all the matches were played.
The final ranking is as follows: 1st: Yellow; 2nd: Pink 3rd: Purple; 4th: Blue; 5th: Orange.
Congratulated by Dominique Casagrande, who owns the indoor football center, the team of Cris, who had already won before even playing their last game, unfortunately were "refused," by the International League of Indoor Soccer " to change their keeper and thus had to go with Kim (Källström) between the posts," explained Rémy Vercoutre who seemed to like becoming an outfield player for the duration of the game.
After four days off, including today which allowed the players to touch the ball again, under different circumstances than usual, the next "classic" training session will be held tomorrow morning at 10am (open to the public).