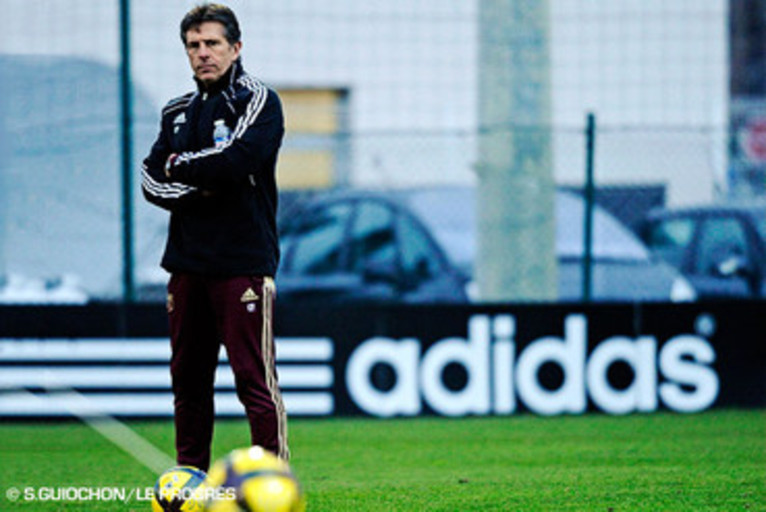 Talk turned around the week of the OL squad...the goals conceded from set pieces...the ends to matches...the title...the match against Lens...
The injury situation
"Delgado is not quite ready to be in the group for Sunday. We'll see next week for the trip to Paris. Gomis, is fine. Everything is going well for Bastos. He is on schedule. We hope to see him on April 20th in Lyon. "
How do you rate the week of the group?
"Quiet, would be a big word. It was pretty special. But there is a real difference between outside perception and reality. It's all about buzz ... It's part of what happens around football. Inside all is well. There was just a lot of frustration with what happened in the last two games. The players got back down to work. There was quality, accountability. It remains to materialize in our games. The annoyance of Lisandro in Nice? He's a moaner, and there is nothing new to that. The tangle between Cris and Grenier? He is a good stopper. It happens. And whenever this happens, there is not necessarily a need for an apology ... So people take the opportunity to build up the subject! It is up to us not to give such criticism any weight. I have not spoken with Cris and I say once again that there is a big difference between what we feel and the outside perception of things."
The week was pretty special. But there is a real difference between outside percepttion and reality. It's all about buzz…
How do you explain these goals conceded from set pieces?
"It's a lot of things. You need a better management at all levels when you're a top team. We will address the problems. In Nice, it is perhaps the consequence of the goal conceded against Rennes.
How do you explain the ends to your matches?
"There was mismanagement against Rennes and Nice. This had an impact on everything that had been done before, our results and the appreciation of our performances. It's a shame. We need to rebel against what is going wrong."
Is the title lost?
"Right now, the important thing is to get onto the podium in order to participate in next seasons Champions League. There is no use, with only 9 games remaining and an 8 point gap with the leaders, to talk about the title. We'll see what the situation will be 4 or 5 games before the end. The teams that go all the way will also be teams who are calm, who show the responsibility to encourage individual and collective expression. In Nice, we showed a lot of nerves."
What do you think of this Lens side?
"They are a side that never gives up. They are present in the tackle. They showed it all against Marseille, in a match which they perhaps did not deserve to lose. They are focused on the end to the season, they have not abdicated."