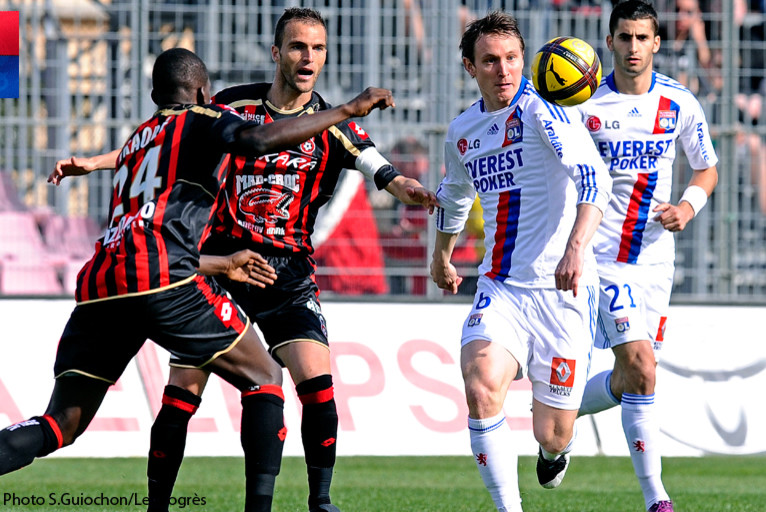 Despite having the match in hand, Lyon only managed a draw away to Nice by conceding two goals in the final minutes of the match.
Traveling to Nice for Week 29 in the Ligue 1, Lyon had the firm ambition of bringing home a victory as well as climbing back onto the podium of the Ligue 1.
The sun was shining and the temperature was almost summery at kickoff. Lyon tried to close down their opponents' right from the outset but were unable to carve out any real opportunities. Opposite, Anthony Mounier appeared to be in good form and gave a hard time to his former teammates. OL had not had the slightest chance on goal but opened the scoring with a stunning free kick from Kim Källström, who left Ospina powerless (21'). Shortly after Francois Clerc came close to equalizing, but his header from close range spun a few inches wide of the Olympian post. The "Gones" could have benefited from a penalty after a foul on Jimmy Briand but Mr. Bre did not flinch (28'). Playing roughly, the Nice players were often punished for fouls in the midfield. At the end of half, Maxime Gonalons was the author of a magnificent move, intercepting a ball in the midfield and then playing in Lisandro on the left. The Argentinean did not need to think twice before firing past the Nice keeper, curling a shot just inside the net. Claude Puel's players had done the hard work, leading 2 goals to 0 at the break.
Nice were fired up at the start to the second half and Diakhaté was quickly guilty of a foul in the penalty area. Nevertheless, Hugo Lloris saved his side by pushing away the penalty from Ljuboja (50'). Eric Roy's players pushed hard and created several opportunities from set pieces, but this save from the Lyon goalkeeper was the turning point of the match. After fifteen minutes of fury from Nice, Lyon were able to reclaim possession of the ball. Ospina also prevented Jimmy Briand from registering a third goal by pushing away his effort. Having just come into the match, Yoann Gourcuff was too close to give more depth to the score but he found only the side netting. The southerners were tiring and OL were in control going into the final fifteen minutes of the encounter. Pape Diakhaté once again brought down a Nice player in the area in the final minute of regulation time. This time Mouloungui transformed the penalty and offered an exciting end to the game for the public at the Ray. In stoppage time, Civelli flicked home a volley from a team mate with his arm and snatched the equalizer for his team. A disastrous scenario for Lyon who had had the game in hand.