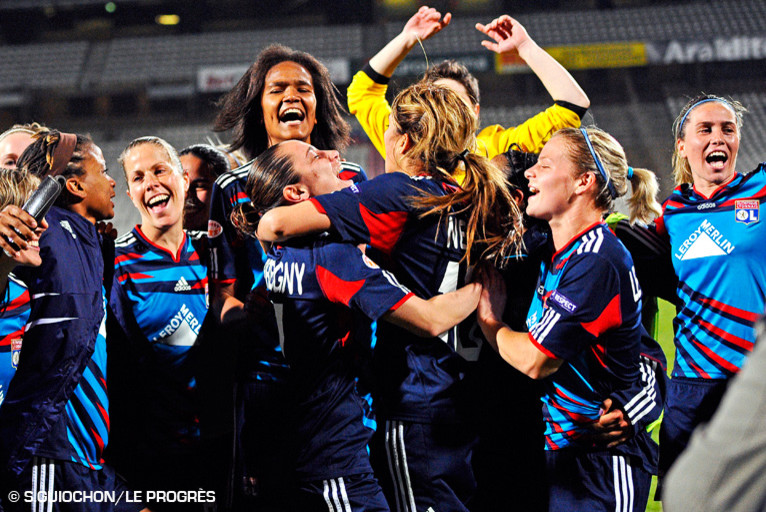 Lara Dickenmann made the breakthrough… OL's women will face Arsenal in the semi-finals… Sonia Bompastor will be suspended for the first leg…
A liberating goal
Just like during the 0-0 draw in Russia, Lyon struggled to overcome the defensive block of Zvezda. In the first half, Louisa Necib often tried her luck from distance, without success. Caught in the pincers, Elodie Thomis was unable to use her pace. It would be her replacement, the Swiss international Lara Dickenmann, who made the breakthrough with a beautiful half-volley into the top corner (60'). Patrice Lair's players pushed on throughout the game and were rewarded for their efforts. Conversely, the Russians were punished for their excesses of aggression and foul play, with the sending off of Pekur in the last quarter of an hour.


Next up Arsenal
OL's women will face Arsenal, who knocked out the Swedes of Linköpings (1-1, 2-2) in the semi-finals of the Champions League on the 9th or 10th and 16th or 17th of April. The first leg will take place at the Stade de Gerland, the return in London. Lyon have already met  Arsenal, and have fond memories. In 2008, for their first participation in the event, Lyon had knocked out the English side who were defending champions, in the quarterfinals (0-0, 3-2). The following season the two teams battled in the group stage, at the Stade Gerland, with a new victory for Lyon (3-0). The other semifinal will pit together the two German monsters: Duisburg and Potsdam.


Bompastor suspended
Against Zvezda, the OL defender picked up a yellow card, as she had done in the first leg. Sonia Bompastor will therefore be suspended for the home game against Arsenal at the Stade de Gerland. This is the only bad news of the evening.