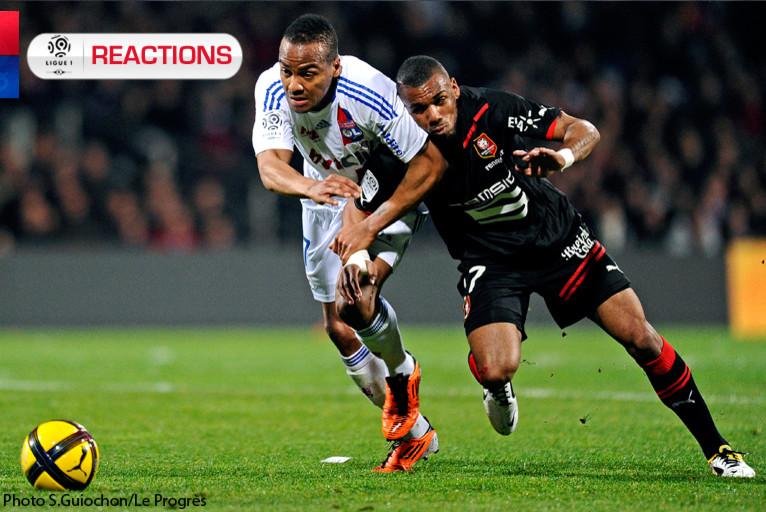 All the post-match reactions from the OLTV bus.
Miralem Pjanic
It's a big disappointment tonight, it's infuriating, I am very disappointed after that game and especially after this goal. We did not do what we had to in order to win after the red card, we were not able to manage this period and allowed them to play too much. It's a big disappointment tonight. Afterwards, we played a game in the Champions League on Wednesday, some players may be lacking in freshness. We conceded an unfortunate goal when I think there was no foul and therefore there should not have been a goal. For my part, I did not play Wednesday's game, but others were probably more tired. However, this is not a reason. We wanted to play this game and we were disappointed. Tonight was rubbish.
Pape Diakhaté
We are very disappointed to have conceded a goal. In addition, for a defender it is a big disappointment, there is nothing to say. Now the majority of us will head off on international duty, I hope everything will be okay. Tonight we had the opportunity to move second in the table and we did not make the difference. They are a difficult team to play against that leaves little space at the back. We missed an opportunity, we will have to re-focus and try to work, that is the most important. We contented ourselves with playing in our camp and it was not beneficial for us. We had to play further forward and we failed to do so. Now we must look forward as each point will be important for the remainder of the season.
Claude Puel
It's very hard tonight to concede a draw after having opened the scoring, by putting in a very good first half performance. We were missing the second goal which would have put us safe. Even when they were shorthanded we didn't develop enough play, we thought we had done the most difficult, they managed to play through. We were a bit too tense and were not able to maintain control and make them run. Risky clearances. It is detrimental to a draw in these conditions, we believed we had made the difference but we got punished. It was a tough game there was a great deal of fatigue and disappointment after the Champions League but it's even more infuriating because we put in a good first half with a lot of good play, so it's annoying to concede from this set piece. We concede too many goals from set-pieces. Again, when you do not score the second goal, your position is weakened. We waited around too much. I could not feel it happening, there were no real situations.
It was not an opportunity, just a free kick not very well taken, but that's how it is. We must finish in the top first three, that is obvious and we will see after the last matches where we are, we must remain ambitious. We took a slap tonight but we can stay in the race. The objective is the Champions League, but we'll see how things pan out. The players will be heading off on international duty tomorrow they will be able to relax and take a short break from the club, it is always beneficial. For those who stay here, we will have to evacuate this week's disappointment. Upon the return of internationals we will have to get back into work. We could have moved second tonight, which would have rewarded the work of my players. We do not have the time or the right to look back, there remain 10 games, it is a third of the championship, so not something trivial.
Jimmy Briand
It is a disappointment. We were leading 1-0 at 11 against 10 and we failed to hold onto the ball. We are not immune from a free kick. We will rest and try to recover against Nice. Could perhaps explain this by our fatigue but when you lead 1-0 you should know how to hold on, even if it's good for them. They are a great team and if they are there it is because they deserve it. We had some situations, were able to score but failed to hold on. I had already played against my former team in the first leg, and on the pitch there are no feelings but we are always happy to meet again.
Frédéric Antonetti
Managing a draw at Lyon is always positive. I have only two regrets. First of all, that we had not responded piecemeal to Lyon because between the 15th and 45th minutes we do not put them in any danger. Three major incidents in the game: Pjanic deserved a red card for the his foul on Montano, Montano was sent off despite the numerous attacks on him by Lovren and at the end we should have had a penalty. All these things combined, it is a lot. We were able to hold onto the ball, we won free-kicks and one of them has paid off. I am very happy for this young team. We are in the top 5, we wanted to succeed in our season and our goal was to be in the top 5. We'll give everything and hold on to the end.