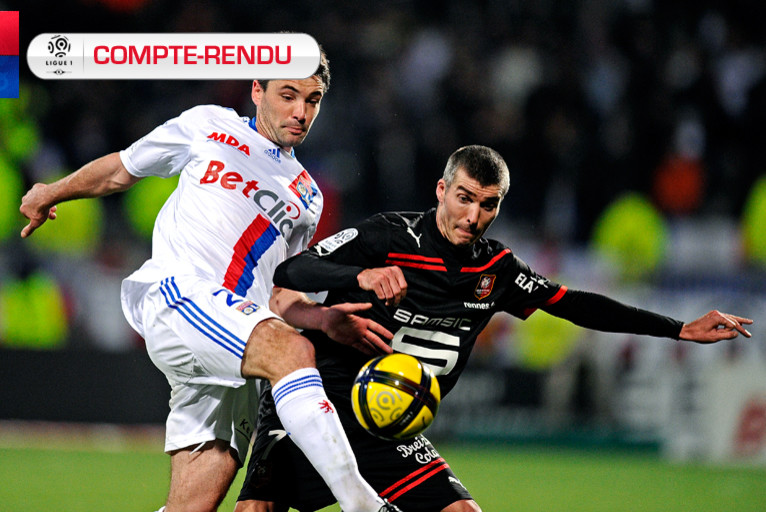 In front and with an extra man, Lyon were caught in the final minutes of the match and therefore dropped precious points.
The big match of Week 28th between Rennes and Lyon looked to be decisive in view of a future qualification for the Champions League.

The match kicked off at break neck pace with Rennes showing no complexes and breaking forward very quickly. Montano came close to a duel with Hugo Lloris but the impeccable return of Cissokho foiled him (5'). For their part, OL accumulated corners but without any success. The "Gones" had ample possession but without really creating any opportunities. Some crosses brought some danger but no shots on target were registered after twenty minutes of play. Jimmy Briand created the first good opportunity but his header was caught by Douchez (26'). Lyon opened the scoring with a little luck as a shot from Lisandro was deflected more or less unintentionally by Bafé Gomis past the Breton goalkeeper (36'). Just before the break, Gourcuff tried his luck from the left but his shot spun over the frame. Claude Puel's players led logically at the break because as it was they who produced most of the play.
Early in the second half, a great run forward by Cissokho came close to bringing a second goal but the deviation from Gomis found no taker (49'). Just afterwards, a header from Dejan Lovren flew just wide of the target. Hugo Lloris gave himself a little scare because of a bad bounce that came close to deceiving him (54'). A little like the first goal, Gomis deflected a shot by Réveillère just wide of the left post of Nicolas Douchez. Lyon were trying to force a goal that would make them safe. On numerous occasions the Olympians had good opportunities to find the knockout but they lacked accuracy in the final pass. The Rennes striker Montano found a way to lose his nerve and was sent off after a foul on Lovren. Despite the numerical inferiority, the Bretons monopolized possession of the ball. With just five minutes remaining, Rennes found the equalizer following a debatable free-kick fired in by M'Vila and propelled into the goal by Théophile Catherine (86'). Lyon once again dropped some very important points at home when they had the game in hand.