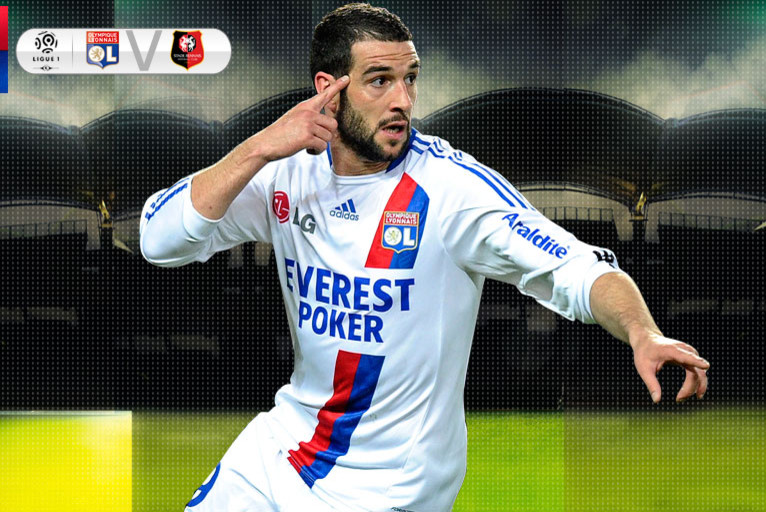 After their elimination from the Champions League, OL will trry to bounce back by taking second place in the table from Rennes. A decisive match in the race for the title.
There is nothing better than a real big match to get yourself back on track. Three days after the severe defeat in Madrid, Lyon return to a competition which smiles on them and in which Claude Puel's team is still well positioned as the final sprint begins.

After their great victory at Sochaux (0-2) last week, coupled with the defeat of Rennes at home to Marseille (0-2), OL are in the ideal position when receiving the Bretons. The challenge for Cris and his partners is rather simple: take all three points of the victory to regain second place in the Ligue 1 and position themselves just behind the leaders, Lille.
Only problem: Rennes have taken, in recent years, the nasty habit of coming to play spoilsport on the pitch at Gerland. Antonetti's side remain, in effect, on an incredible run of five games without defeat in Lyon - 4 draws and 1 victory. We have to go back to the 26th of January 2005 and a score of 2-1 with goals by Bergougnoux and Govou to find evidence of a Lyon success at home to Rennes.
To the unfavorable statistics, it is obviously necessary to add the question concerning the recovery factor: what physical and psychological state will OL find themselves in after their failed journey to Spain in midweek? So, Bafétimbi Gomis and why not Miralem Pjanic could regain a starting spot and bring a bit of freshness for this summit match.
For their part, Rennes have had a few worries in the offensive sector with the forfeit of Brahimi and the uncertainty that has hovered all week on the participations of Kembo-Ekoko and winter recruit Boukari. Rennes will still be hoping to bounce back after their counter performance against Olympique de Marseille. This is the case of the French international Yann M'Vila who is relying freshness of his side: "The fact that Lyon played on Wednesday could be a plus for us. They will have left a lot of energy after this voyage. We will have to take advantage of this."
It is of doubt that Claude Puel's team listen to things with the same ideas in mind. In this duel between the second best attack in the league and the best defence of the Ligue 1, the Olympian coach hopes that his offensive armada will make the difference. It must be said that 11 matches before the end of the season, OL no longer have much choice if they want to lift the championship trophy at the end of the season.