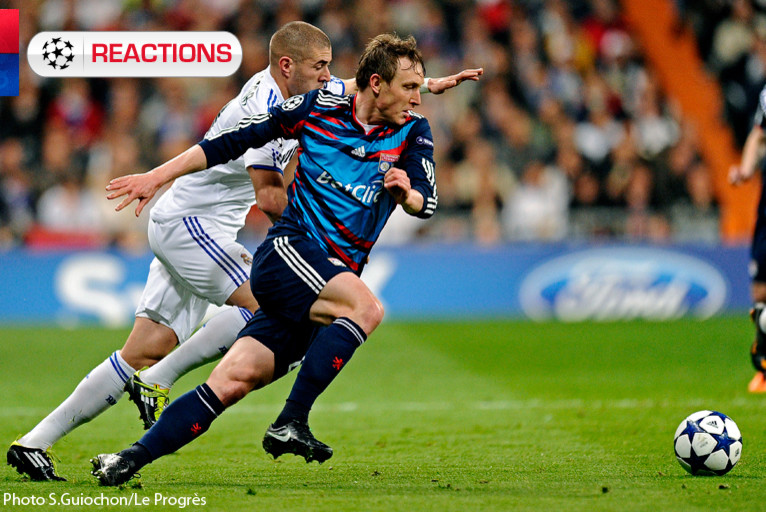 The post-match reactions on the microphone of OLTV.
Jérémy Pied
They game was decided on small details. They had chances to score but so did we. They scored but this did not affect the game because we had to score anyway. It is the second goal that hurt us. When I came on we had to throw bodies forward, but it was tough. Then the third goal came and finished us off. They are strong and it's hard to take the ball away from them. We were well in place, in form, they had reasons to doubt. The first goal put them at ease tonight, they put in a good performance and deserve their qualification. It will be a great memory for me coming on at the Bernabeu, but we were looking for a victory. I would have preferred not to play and win. We are disappointed mentally, we will try to boost ourselves right away in the league, it is up to us to get first place and to be rewarded for our efforts.
Bafétimbi Gomis
There is a lot of disappointment. We wanted to get through this round just like last year but came up against a team that has mastered its subject. If we drawn 0-0 we would have had regrets but not tonight, given how the game went. We tried very hard to score that goal and on a misunderstanding between the defenders they scored. The home game against Rennes will be important, we have lost the objective in the Champions League but we must not lose our aims in the league because that is what we make us replay games like this. The score line is tough, we did not deserve to lose 3-0 but we must put that aside and think about the game against Rennes. We are in a good momentum right now and although we lost 3-0, we must go forward. I am part of a group, a collective, it does not prevent me coming on and bringing what I can.
Yoann Gourcuff
We're all disappointed, we did not put in the performance we wanted, had hoped for. There was too much space between our lines. We could not keep the ball high up the pitch and get our block in position. The ball was flying in all directions. Offensively they have great qualities with good understanding between the attacking players, counter attacks that we could have exploited. We had to be intelligent, and get to juggle between attacking and moving our block up the field all the while retaining the ball.
We did not work out how to do so, a lot of space opened up and as they are technically gifted it suited their game. I think we had opportunities to put them in danger but they were very good and the result is logical. We were all disappointed, we're not happy but we will try to digest this elimination, we have an end to the season with important goals. We must focus on our end of season because to replay these games we need to succeed in the league. We did not have much possession of the ball, our defense was pretty deep so it was mainly counter attacking situations that we were presented with but we did not have the players to play counter attacks. We should have made them chase the ball, because they do not like it, but at the same time we had to score a goal, so it was difficult.
Claude Puel
I just think we failed to raise our level of play. There was a lot missing on an individual and collective level, we offered them the ball too often. Congratulations to Real who closed us down and played well. We have regrets about our level of play tonight, as soon as we lined up our game we could have put them in danger but were lacking in our quality. There are regrets at not having played at our level, but not on the match because the result was logical. We can all go over the match, but we failed to let go, to play freely. We never really got into the game even though we had some opportunities.
We will have to quickly forget about it and throw ourselves into the league because the match against Rennes will come around very quickly. I hope it will not hit the players too hard, we have to be objective about our performance. We deserved better in the first leg, but not tonight. We did not play at our level. We should congratulate Real and regroup quickly for the championship.
Karim Benzema
I am very happy because we put in a great performance and we dominated our subject. Lyon put in a good first half, even if they lost the ball at the back because they were in a great hurry. 3-0 is tough on them. I feel good right now, I'm improving day by day. Today I had chances and I put the ball away, it's up to me to continue like that. I think Real can go far, everything is possible when we get past the last 16. Afterwards, in a two-legged match anything can happen. It's always fun to be applauded by an entire stadium, I am very proud of my performance tonight.