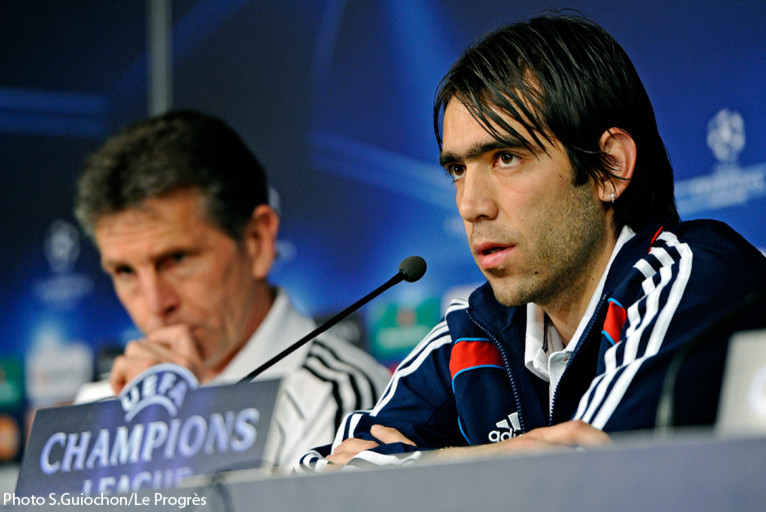 After their arrival in Madrid this morning, César Delgado and Claude Puel spoke in front of the gathered French and Spanish press at 17h00...
César Delgado
A different confrontation from other years?
It will be difficult and very complicated for us but we have picked up a lot of confidence lately. We are confident enough to try to turn around the situation. Santiago Bernabeu? It is a pleasure to play here, with all that that implies. We will give our all in the hope of qualifying.
Real will play for a 0-0 draw according to Aulas?
Real Madrid will try to win. Hopefully this will be an open game, hopefully we will play well in order to score a goal and hope we qualify. We must win the match knowing that we have to maintain a certain level of concentration. We must try to score without conceding a goal.
Cristiano Ronaldo
Personally I think Real Madrid are a good team with or without Cristiano Ronaldo, because they are a good team. It does not change anything for us if he is present or not.
OL's advantages
Right now we are in great physical condition, we are scoring a lot of goals and we know how to apply pressure out on the pitch. Lisandro Lopez? He is an important player for the team, I know him well. He is a warrior who will be a real asset for us.


Claude Puel
Will this be a different game in comparison to last year?
Last year we already had to score a goal, so there is no great change. We must be strong offensively, to settle our game and move forward. There will be twists and opportunities on both sides. The result will be decided on small details. We are able to go and cause them problems. A confident team? We're not looking at previous meetings, or statistics. Everything will be decided on the pitch. We are maybe a little more confident at the moment as we are winning a lot of matches, just like Real. Even if we know we must be strong, we know that there will be opportunities for both sides.
Is the OL squad solid?
We know we can compete. Real are favourites, they scored on the road and play the return leg at home. All lights are at green for them. We will concentrate on our game: that is the key. Toulalan's role? He has all the qualities. He will even surprise us and score a goal (smiles). He is a very good player, good at recuperating the ball, he always puts in a great deal of work. In the dressing room he is also an agreeable companion and very easygoing. Lisandro Lopez? We have several options. He can play with Bafé, he can play alone or on the flank. We have several options available to us before and during the match. We can pilot the game depending on different profiles. Bastos operated on? Bastos is suffering from a compressed meniscus as he had done a little while back and will be operated on in Brazil. We took this decision quickly so that we can get him back as quickly as possible before the end of the season. It is unclear when he will return but we hope to recover him quickly and that he be there at the end of the season for the important games.
Les hommes forts du Real
Karim Benzema ? Il confirme tous les espoirs placés en lui. Il a un potentiel énorme, il a passé beaucoup d'étapes et a acquis un gros volume de jeu au real et en Equipe de France. C'est très bien pour lui. Cristiano Ronaldo ? S'il n'est pas là, un autre jouera. Le Real ne tourne pas autours de Cristiano. Mais ce serait bien que le Real joue avec toutes ses cartes.
The in-form players at Real
Karim Benzema? He is just confirming all the hopes placed in him. He has enormous potential, he has progressed a great deal and has developed a large volume of work at Real and for France. That's great for him. Cristiano Ronaldo? If he is not there somebody else will be. Real Madrid do not revolve around Cristiano. But it would be nice if Real played at full strength.