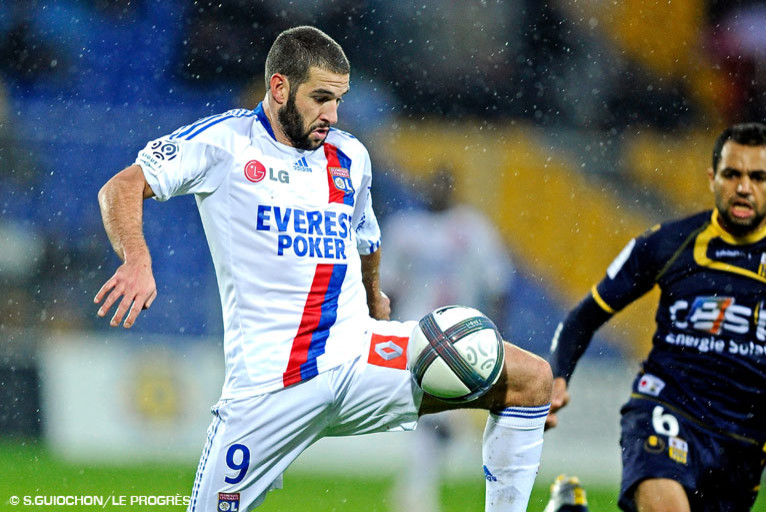 Bastos has often been in form against Sochaux… Lisandro is quite lethal… Maïga tries his luck often… OL have never lost before facing Real in Madrid…
The Brazilian Bastos has already scored 5 goals in the Ligue 1 at Sochaux including 2 direct free-kicks, 1 with Lille and 1 with OL. Last season, he managed to score 3 goals at Bonal. Källström, Lisandro, Delgado, Lacazette, Briand and Pjanic have also scored. Källström with Rennes, Pjanic with Metz and Briand with Rennes.
Lisandro has shot 37 times in the league this season. He has gotten 17 on target... and scored 11 times...! With his realism he is ahead of Gomis (58 shots including 22 on target for 9 goals), Briand (33 shots including 14 on target for 5 goals), Bastos (59 shots, including 21 on target for 5 goals)...
The Sochaux player Maïga has scored 11 goals from 69 shots (5th total in the L1 behind Néné 95, Gameiro 84, Roux 71 and Gignac 70). He has gotten 30 shots on target. He also has an interesting ratio ... The top scorer of the L1, Sow has scored 17 goals from 29 shots on target!
If the two top scorers for Lyon score almost as much at home as they do on the road, Lisandro 6 / 5 and Gomis 4 / 5, Maïga has scored 8 of his 11 goals at home, Ideye (suspended on Saturday) 7 out of 10. Maïga has scored five headed goals.
OL have scored 6 goals from outside of the penalty area including the two goals scored by Källström who has struck 35 times from outside of the box out of a total of 41 shots on goal. Bastos has scored 2 from of his 42 strikes from outside (total 59). Sochaux have scored 10 goals from outside of the box including the 3 from Martin (3 of 3), the best passer in the league with 10 assists, including 5 after corners.
Gomis has scored 9 goals: 3 with his right foot, 3 with his left foot and 3 headers.
OL will face for the 4th time Real in Madrid. OL have never lost before playing at the Bernabeu, a 0-0 draw at Boulogne, a 1-0 success at Sedan and a 2-1 victory at Gerland against Troyes.
OL have won their last 7 matches at the Stade Bonal.