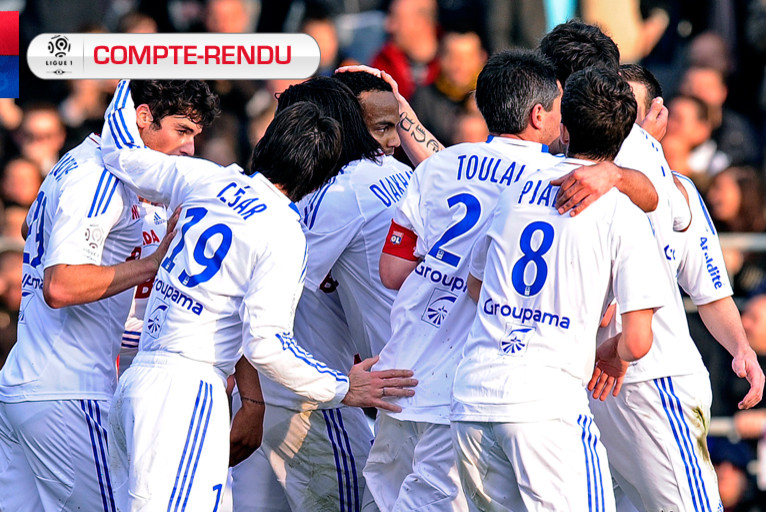 Lyon won brilliantly against the bottom placed Arles-Avignon and took advantage of the encounter to build up their goal average.
By receiving the bottom club Arles-Avignon, Lyon had the obligation to take all three points of the victory. The "Gones" had revenge to take after the first encounter between the two clubs where they only managed a draw.
Claude Puel's players started the match calmly but the bold Arlesians played their luck on the counter attack. Yoann Gourcuff was the first to sound the charge by sending a free kick onto Planté's crossbar (8'). OL found the breakthrough from their first real acceleration. Played in by Gourcuff, Jimmy Briand broke away from his defender before crossing for Lisandro who opened the scoring from close range (13'). A few minutes later, Miré Pjanic drove the nail a little further home receiving a back heel pass from Licha and sending the goalkeeper the wrong way. The Olympians had killed the match in just twenty minutes. Despite everything the Hadzibegic's players did not close the game and Ndiaye even found the post of Hugo Lloris with a cannonball of a shot. Anxiety seized Gerland when Gourcuff remained on the ground after being blocked at the last minute when he shot on goal (35'). Fortunately it was more fear than harm for the Lyon playmaker. Mr. Miguelgorry brought the half to a close with OL, logically, in the lead.
Yoann Gourcuff was forced to leave his place to Bafé Gomis just three minutes after the restart. The OL players continued to develop their game. Planté delayed the inevitable by saving a shot from Pjanic but shortly after Lisandro crucified him with a diving header following a perfect cross from Chelito Delgado (51'). Just afterwards, Gomis was played in deep but instead of shooting when faced with Planté, he slipped the ball to Licha who finished off his hat-trick. Arles-Avignon cracked completely and the next minute Pjanic found the post. Bafé Gomis scored as well but his goal was unjustly denied for a non-existent offside (62'). OL were in complete control and Gerland, with delight, started a Mexican wave. Coming on for Chelito, Michel Bastos finished off the match in style with a goal from a powerful shot just inside the post (92'). This success has enabled the OL get back into the top three and moreover to increase their goal average.