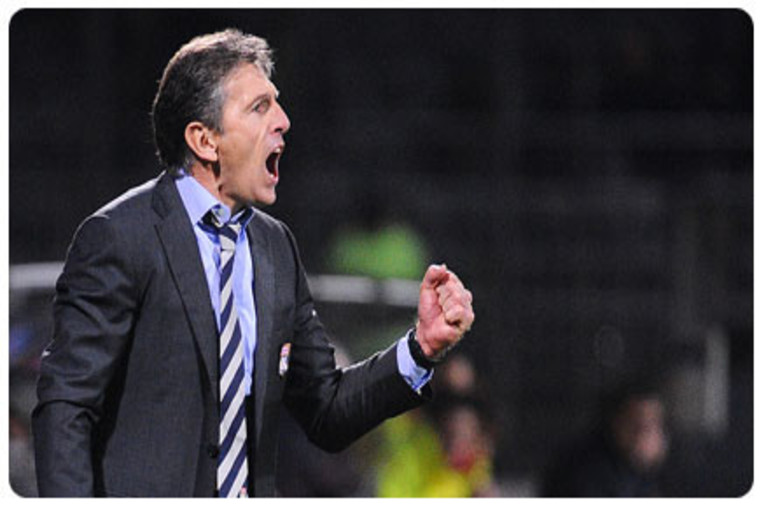 The visit of Arles-Avignon...the 4-2-3-1 formation...the final sprint home...the injury situation...all questions covered in the press conference of the OL manager...
INJURY SITUATION
"Cris has a little tendinitis. We'll see if he can resume with the group next week. He is progressing well. Lisandro is fit, he was not last week. He put in a good week of training. Källström was rested earlier in the week. He felt some pain. Things are fine. Ederson will play with the CFA."
How do you see the game against Arles-Avignon?
"We must take maximum points at home. This is a game to take very seriously. Arles-Avignon, with each match, defends dearly as seen in the results against PSG and OM ... It's never easy against such an opponent. It will be interesting for me and the players to see how we stand in our concentration, attitude. For me, it's also as important as playing Lille, even if it is not the same approach."
Where does Lisandro fit into the 4-2-3-1 formation?
"We'll see how we will start. Each match has its truth. Bafé and Licha can play together. It can be one or the other. What I liked about this animation is the collective efforts of the players for their partners, availability. We saw a true collective with different sequences of play by dominating and being dominated, each with answers. We see a real group from one match to another."
Will the title be decided against poorly placed teams?
« Le titre se jouera sur la régularité. Il récompensera la meilleure équipe sur la durée. Annoncer que l'OL joue le titre, c'est normal avec nos ambitions, nos objectifs. Pour le jouer, il fallait être placé en février/mars. L'OL est placé. C'est un long sprint qui a débuté. Chaque point est important. Chaque équipe engagée dans cette course au titre a des bons et des mauvais moments. Si l'OL préserve cette unité, cet investissement, l'OL sera présent au bout. Ce championnat est très disputé. C'est un championnat de haut niveau. C'est sympa. Cela fera un beau champion ».

"The title will be decided by regularity. It will reward the best team over time. Announcing that OL are playing for the title is normal with our ambitions, our goals. To play for it, you have to be well placed in February / March. OL are well placed. It's a long sprint that is starting. Every point is important. Each team engaged in this title race has had good and bad periods. If OL preserve this unity, this investment, OL will be present at the end. This championship is hotly contested. This is a championship of a high level. It's good. It will make for a great champion."
Do Rennes and Lille have less pressure than OL?
"If Rennes, who have a lot of youngsters and are a team that are on the up, are still present with 5 matches to go, they will be under pressure. Lille have a squad to play for the title or finish on the podium. It is very important for the future of this club to achieve these objectives, in order to safeguard the squad. For OL ... it's the daily grind ... having that type of pressure."
What do you think of Lovren?
"He continues to progress. He is becoming increasingly solid in his position. He has erased the mistakes he made in each encounter. He is becoming a very good defender. He had the potential, the character ... He is intelligent, attentive, respectful and very determined. It's very interesting to train this kind of player."