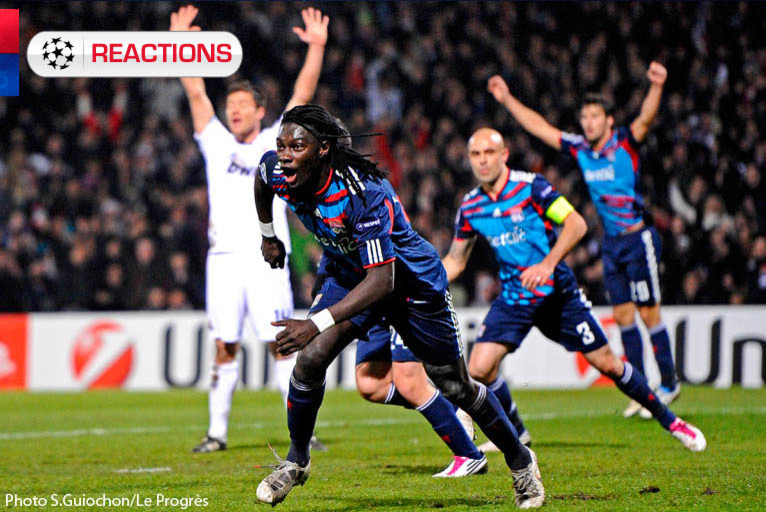 The post match reactions direct from the OL TV bus after the draw between OL and Real Madrid.
Kim Källström
This is a game where we put in a lot of effort. 1 each is a very good score for them, this match leave's us the hope of qualifying. We must be a little more realistic, they have quality players who took on a little more importance in the second half. Our regret is not having scored during our strong period in the first half.
Bafé Gomis
This result gives us every chance for the return leg which is far from won, but we have preserved our chances. Fortunately we equalized but this match in Madrid looks to be very difficult. We had some strong moments in the first half because we were up against a great Madrid who defended well and an excellent Casillas. Faced with this great team built to win the Champions League, we put in a good performance. We didn't want to let up as these European games are played until the last minute. We will take the time to recover for the match in Lille, which is very important for the championship, before thinking about Madrid. We had shots that could have been better exploited in the first half, it was a game with lots of suspense. We knew it was important to move fast in attack ... I missed the first opportunity in the first half but I retained my composure for the rest. After the opener we showed we had character ... The opportunity came to equalize and we grabbed it. Licha will certainly help us for the return leg at the Bernabeu. Playing there is impressive, but we aspire to reaching their level. Our month of February was not easy, we have the match in Lille which remains complicated ... But we can use our latest performances to continue in the championship.
Claude Puel
We are not very happy with the result but it was a top level game with lots of density. It was a nice first half time with a lot of quality, our actions would have deserved to be finished off. We were less inspired in the second half but we were able to recover. It was a good game of the highest level with lots of character. There was the courage and character, especially after the opening of the score. The group responded well, particularly with the substitutes. It was a good game in the content which leaves us opportunities. Real were consistent with what was expected and we put up a good fight especially in the recuperation. We were able to get forward intelligently, but we were a bit naive in the first half time. We might have better analyzed situations, we were present in all aspects, we know what we can do, it is up to us not to go drop our level. There was a lot of interesting things tonight which we should repeat...
Hugo Lloris
We put in a great deal of efforts tonight but came up against a good team, very solid. Our efforts to contain them were fine... It is up to us to be strong for the second leg, we will have to go there as solid as possible. We put in so many efforts tonight that we have nothing to reproach ourselves of... That leaves us prospects for the future ... Real are accustomed to these kind of events ... we played with our weapons. We will go to Madrid with the intention of achieving the best possible result. Conceding a goal at home is not obvious, it will take major defensive efforts in the return leg, the best way to prepare is to play well in the championship.
Karim Benzema
Lyon are still a very good team and they showed that tonight ... We will have to play well in the return leg, but it's still important to score an away goal. I stayed focused and tried to bring something to our performance when I came on tonight.
Gérard Houiller
It was a game with great intensity. The Lyon midfielders were very good, after we should emphasize the first goal for Madrid at the Stade Gerland. The last ten minutes were intense and OL were able to draw on their resources. Bastos and Delgado were put to great contribution. Ronaldo will be more motivated in the return leg. I liked the intensity of the game which was dense and well constructed. We could fear the worst, Madrid's goal made OL react. We must take from this game that Lyon can stand up physically, a 1-1 draw is not a bad result. The argument number 1 in this kind of meeting is to believe in order to play the games right to the end. Real maintained a tight block all through game, they are technically very strong.
I think Lisandro was missed today. It's a bit of a locomotive, at home you must have all of your strengths, Lisandro is an asset to the team, which could have weighed heavy. Karim Benzema has progressed in the volume of his game offensively.
Mourinho's Real Madrid is more pragmatic with a squad that can make the difference. He had also warned that Lyon would be an adversary to take seriously. He is a generous man who keeps a great self control. His players are unanimously behind him. He's a good person. Cris was solid today, he is always good in the Champions League. The atmosphere of this competition transcends. Bafé Gomis has made significant progress in his movements, he is much better in his deviations.