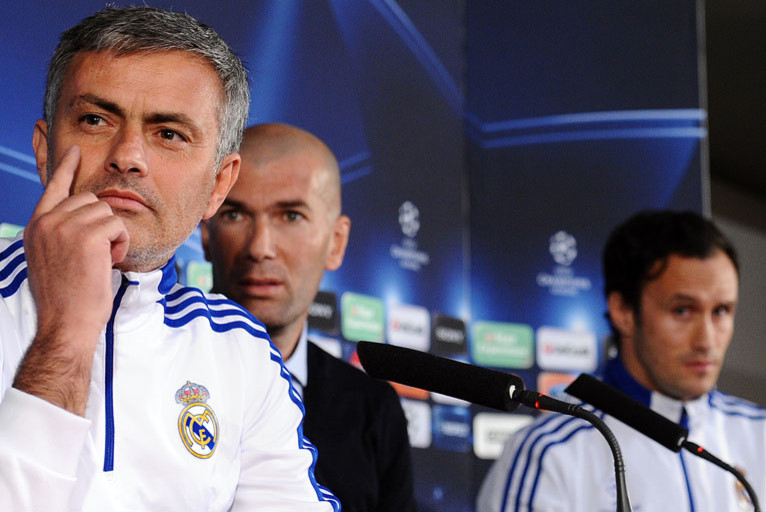 José Mourinho, Ricardo Carvalho and Zinédine Zidane all spoke to the gathered press.
José Mourinho
Real Madrid have never beaten the OL. Did you have to put in psychological work before this encounter?
No, I didn't change anything. We talked about the game this morning, we analyzed our opponent. We have not had much time to put this into practice but we know that OL are a very good team, we know what we want to do, what direction to follow. Many new players have joined this group, they did not experience Real's defeat against OL. There is no psychological work to be performed.
How do you intend to get through this round?
It is up to us to score one more goal. We know that Lyon are a tough opponent, demanding that they have experience in this kind of encounter. Statistics exist for us to bring them to a stop. We'll leave them behind us. We must be present. We're ready. We will put in two full performances. If we think it will be easy, we will have enormous difficulties. If we think the difference will be made tomorrow, again, we would be mistaken. If you think it will suffice to have a few strong moments during the match, we would be mistaken. We are convinced of our qualities. We'll play tomorrow without inferiority complexes. We are Real Madrid, the champion of champions in the history of European Cups. It is a pressure but also a belief that one must defend.
When you arrived at Inter Milan, you immediately feel that this team lacked maturity. Is this the case again with Real Madrid?
In Madrid, I am facing a first barrier: it's been six years since the club has not gotten past the last 16 stage. It is a similar barrier to the one I had on my arrival at Inter who had not won the Champions League in 50 years. These are difficult situations. First of all we must get through this tie against Lyon. We have before us a dual challenge: to pass the last 16 stage and beat OL.
What advice did Zinedine Zidane give you?
Once the draw had taken place, we immediately opened this dossier. We have very efficient structures within our club to work on it, with the help of Zidane who immediately gave us some very precise information. He has the advantage of knowing perfectly well our club, international football and the French football. This is vital information for us.
If Real Madrid only have bad memories against Olympique Lyonnais (3 losses and 3 draws), this is not the case for their central defender Ricardo Carvalho, who eliminated Lyon in the quarterfinals of the Champions League 2003 - 2004 with Porto (2-0, 2-2). "It's a great memory," he says. We managed to take a good advantage from the first leg before scoring in the return game, which made things easier for us. (...) We know that we will have to put in two good performances before the return leg. I think this game has come along at the right time as we are on a good dynamic."
Zinédine Zidane was also invited to speak about the advice he gave to the Madrid coach: "I used my past and that of the OL that I know. I know how this team evolves. But I'm not the only one to be aware of it. I have the advantage of having French television, it makes things easier. I am here to accompany the team, to bring my experience. But the most important is tomorrow's game. It has been three years that Madrid have been unable to beat OL. We hope that this will change. It will be a tough match but I know that Madrid has the opportunity to get through this round."