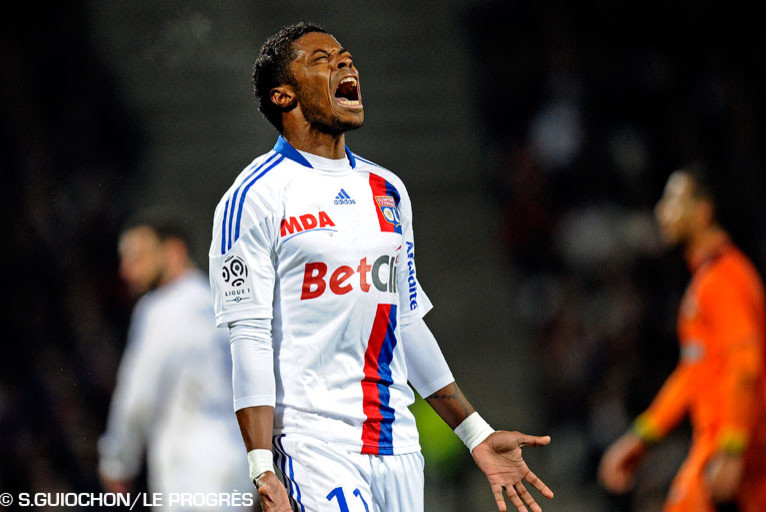 A nearly new five man line-up… mis-firing strikers… a forward who is playng distinctly less…
In Nice, Lloris, Cris, Toulalan, Gourcuff and Lisandro were aligned only for the second time at the beginning of a match. The first time was during the visit of Lille. Captain Cris had spoken recently about a backbone of the team by referring to the combination of these five elements, but against Lille just like against Nice, this association did not last longer than an hour (45 minutes against the LOSC and 59 in Nice).
Lisandro Lopez has not scored in the last four games where he has shot 12 times. 4 games in a row without scoring? This had not happened to him this season.
Michel Bastos, 5 goals, has not scored since November 6th in Rennes. But he has, since, been directly involved in 5 OL goals.
Jimmy Briand has not scored since October the 24th in Avignon. In the last 10 games, he has played only 387 minutes, whereas he had accumulated 1476 minutes in 18 games earlier (one match suspension). He has moved from 82 minutes to 38 minutes per game. That's 6 games in a row in the championship where he is not in the starting line-up.
Yoann Gourcuff has only gotten 28% of his shots on target since his arrival at OL (12 of 42). He has scored 2 goals, played in 3 assists and has also been involved in three other goals.
During the first two games back, Hugo Lloris had not had any saves to make. In Nice, he was called upon and proved decisive on at least three occasions.


In Nice, Lyon conceded their 13th goal of the season from a set piece. 13 out of a total of 34. And for the sixth time this season, Lyon have not scored a goal. In Nice, the seven-time champions of France fell behind in the scoring for the 10th time this season. Only once in these conditions did they lanage to win: in Lens (3-1). They managed 2 draws and lost 7 times.