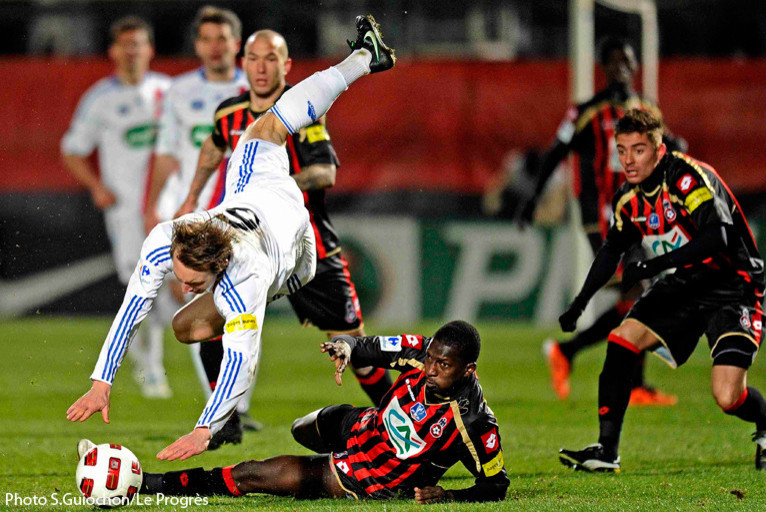 Lyon lost at Nice without really convincing...An elimination accompanied by lapses seen in the past...Match retour...
OL's schedule just became one competition lighter. Lyon will be able to concentrate on their two major goals, the championship and the Champions League. This means they only play four games in the next 4 weeks. Advantage or disadvantage compared, notably, to PSG, Lille ... or Real Madrid? Advantage or disadvantage compared with the ambitions stated early in the season, for example, the title of champion of France?
In Nice, on Sunday night, OL could have qualified but for this, they would have had to put more intensity in the debates, more desire to surpass themselves, more insurance of any kind. They would have had to be more realistic with 3 or 4 clear cut chances which were not converted, as much as through Letizi's fault as clumsiness. Lisandro would have needed more "teeth", the Argentinean who was also quickly replaced (59').
It would have needed the midfield to take matters in hand, while it was often the work of the Nice players Fae, Mounier, Digard ... They would have had to be vigilant on this corner, the 13th goal conceded from a set piece this season. And as a sign that does not disappoint, it was a long time that Lloris did not have to put on his coat of savior (4 times). Not to mention the sending off of Lovren.
A shame. The Lyon players seemed to be better physically as the minutes ticked by. One felt that Nice, though well organized, were on the brink of explosion through their generosity. That was not enough...
OL will now move on to the "essential" knowing that it will be difficult despite their status as favorites, for some, in the race for the championship. Lille now have a 4 point lead and they will host OL in a few weeks time, without mentioning the goal average of the northerners. 4 points ahead, it's not much with 18 matches to go but it leaves a little room for Garcia's men and no real room for error for those of Claude Puel, who will be deprived against Valenciennes, and certainly against Bordeaux, of Lovren, suspended.
On the subject of the Champions League, it seems more difficult to make predictions for the reasons that we know, even if Real Madrid are not very exciting as their latest performances have shown.
In Nice, Lyon lost the opportunity to keep their dreams alive a little longer. They now know where they are placed ... Nice ...just like a warning...