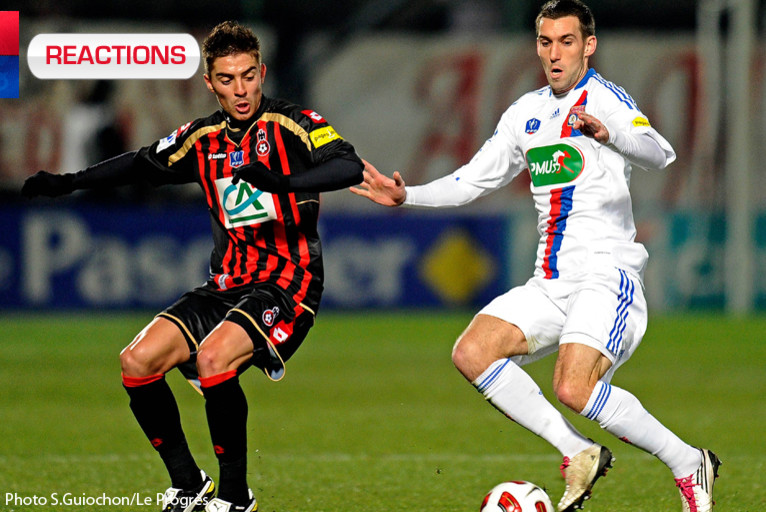 All the post match reactions.
Jean-Michel Aulas
This is the scenario of the Coupe de France where away from home it is always complicated. We missed something from two or three strikes in the first half. There was a decisive save from Letizi. We had the best opportunities but we were unable to adapt to the context. We may have been too sure of ourselves. Some players were well below their individual value. We will have to question ourselves and win the game next Saturday at Valenciennes. The cup was one of our goals so it's a pity. We will have to try to take advantage to say we have less work than our opponents.
Jérémy Toulalan
We had our chances, but our shots were not very dangerous. We had control of the game. We were lacking in power and we were worried about their long ball game. We knew it would be tough in the duels and we did not necessarily answer this. It's disappointing because we came here to win. We still have the championship and the Champions League. Now it's up to us to impose at Valenciennes so not to dwell on it too much.
Claude Puel
We saw a Nice team who were engaged, it's the cup. Nice remained well positioned in the first half and we failed to change the rhythm and be more forceful. In the second half we missed chances. Letizi pulled off some fine saves. Then the game was decided on the roll of a dice and a sending off which I find very severe. Finally these are cup games away from home. It hurts because there was a real will within the group. It's a big disappointment tonight.
Hugo Lloris
We have to show another face to win trophies. It takes away an objective for the end of the season. That's how it is, we must continue to work since there are major events that lie ahead. Nice went and got their qualification with their means and they deserved it.
Anthony Réveillère
We had the opportunity to open the scoring. We did not manage it and the game went to extra time and when the ball does not want to go in there's always a twist of fate. We had to expect it. We pushed right to the end and we took risks, but without success. There was a lack of realism on our behalf. That's football, on certain nights you can play for hours without scoring. We will have to react against Valenciennes because it will be the same type of match that awaits us there.