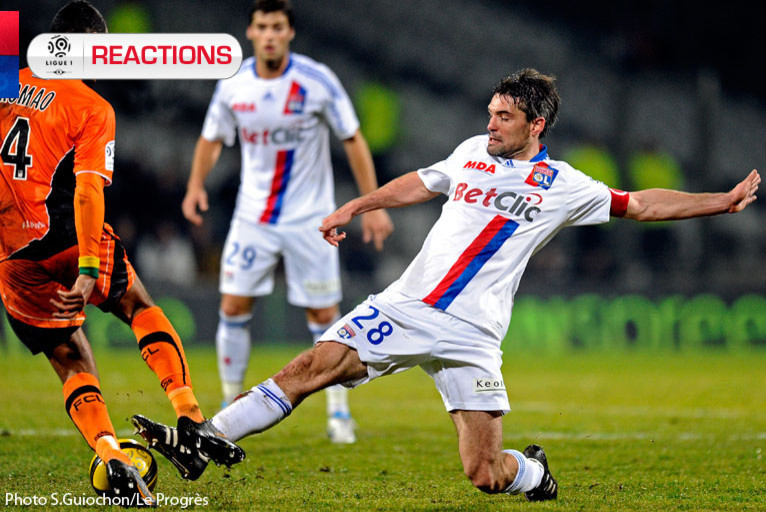 All the post-match reactions.
Jean II Makoun
My trip went well, I'm just waiting for the visa and work permit before I can go... I'll be training with OL this week while waiting to join my new club. It was a good game with great control ... I'm pleased for Bafé Gomis and the performance he put in.
Jérémy Toulalan
It's a great victory, in the content we had not done that in a long time, it feels good to have fun on the field, these 5 months will be decisive for the future. I saw the other results, everyone is still in the race. It will be tight until the end, the confrontations between teams will make the difference this year, winning against teams from the top of the table will make a difference. Everyone put in efforts, we set the tone from the outset, we pressed on early in the game. With one game per week we will be able to work until February.
Bafé Gomis
We played high up the field, the attackers were served well by the midfielders, the rest of the championship will be tough but we are getting better and better, we put in good performances, it is the period of resolutions, let's hope that we continue this way.
Claude Puel
We were rewarded by the magnificent goal from Bafé, we were rewarded for our performance. Tonight we added style to our performance and scored some magnificent goals. It was a full match, we were successful in all registers. We must not disperse during these periods of January as far as preparation is concerned. We knew that the championship had been launched and we had to give our all in every game. The championship is very long and will take a lot of efforts in the competition. We must follow our path and are not allowed to make mistakes. It is important to see all players as mobilized as they were in this match, they showed a great level of performance tonight. Lorient are a well organized team defensively, the players are successful in recovering the ball. It is important to always try to score and take care not to concede. To do so you cannot let down your concentration at any point. The players took pleasure in playing together. The next match in the Coupe de France against Nice will be very important so that's why we stay humble in victory. The entire group is responding well and progressing. There will be no arrivals during the transfer window, we have a good squad with the return of the injured players, Yoann put in a good game tonight playing further up the field than usual.
Yoann Gourcuff
It was a good return to the league, we put in a good game, we have good momentum at the moment with a series of invincibility. Gradually we are managing to control our games, it's nice to win and play well, we must go on and build up our confidence. I had a lot of trouble with my injury and my gastroenteritis during the training camp that hindered me in my preparation, tonight my performance was interesting for a return to competition and I hope to continue like that with my team. The final sprint has started and teams at the top are not dropping points, we have to concentrate on our game and move on with good results and style, to have the fans behind us like tonight.
Kim Kallström
We were all good, up front and at the back. We scored goals by passing the ball around well against a team who are difficult to play. I think we put on a good show.